More on TechnologyTell: Gadget News | Apple News
Publishing
Cory Doctorow came over to Budapest at the invitation of the Center for Media, Data and Society of Central European University to speak on policing computers and other issues. In the course of a fascinating interview with me, he shared a slew of observations on a great many issues, many of which I'll be presenting in subsequent articles. To begin with, though, here are his thoughts on where self-publishing has got to, and what the whole Amazon-Hachette spat reveals about the impact of DRM on the market. The most important thing that self-publishing does isn't merely enriching the people who succeed in...
Two former executives at UK independent Quercus Publishing, Iain Millar and Nick Barreto, have partnered with Michael Bhaskar, currently digital publishing director at Profile Books and sometime digital publishing savant, to create Canelo, "a new digital publisher of engaging fiction and non-fiction released as ebooks, apps and on the web. Working closely with authors, readers, developers and other partners, we will bring great stories to new audiences." "The founders, who have worked for Profile Books, Pan Macmillan, Hachette, Quercus and Bloomsbury, among others, want to combine the best of traditional publishing with a fresh approach," continues Canelo's introduction. "We want to find...
Daniel Menaker, "longtime book editor," has shared a paean in Slate "In praise of the publishers who move units and readers." And after the "15 years I was at Random House, almost five of them as editor-in-chief," he's naturally in a position to know whereof he speaks. Intimately. Cosily. Among many objections that Menaker has to the zeitgeist is the opinion Barry Eisler, who told the Guardian that the signatories of the Authors United letter to Amazon were in "the top 1 percent" who "have no interest at all in improving publishing for everyone. Only in preserving it for themselves." Menaker insists...
A textbook price-comparison browser extension developed by textbook price finding site Texts.com has come under fire from textbook publisher Follett. This extension, "Occupy the Bookstore," sits in a user's browser and pops up less-expensive alternative purchasing sites when the user is visiting some online textbook store. Follett asked Texts.com to remove the extension because it draws sales away from stores Follet supplies. Texts.com has no intention of dropping the extension. They believe Follet does not have a case, because the price-comparison plug-in does not actually interact with the stores' web sites; it interacts with data on the customer's browser...
A half-dozen articles on the publishing industry's 'growing pains' crossed my RSS feed this morning. I guess the new year has everyone feeling introspective, and the short version is that people are tired. Too many shifts in the business model. Too many trends coming and going, and authors try g to cash in on those trends with a glut of books. There are authors who are trying to reach new readers via bargain-priced subscription services. There are others who try and reach existing audiences through programs like Kindle Worlds, which publish within existing fictional universes. Some authors claim that quality is,...
A very depressing article in the UK Guardian sees out the old year - depressing because it suggests that many intelligent and cultured journalists and pundits have still not got their heads around what ebooks are about and are swallowing the dumb headlines that serve Big Media. Recounting "A heart-warming twist in the tale of the books industry," Peter Preston declares that: "The most fascinating and, in many ways, cheering story of 2014 is almost wholly counterintuitive: the survival of the printed book. Turning pages back from digital grave shock! Legacy longform wins fight for life!" I'm sorry, but who here...
Any Brit kid who grew up with a love of toy soldiers, model making, war stories, military history, roleplaying games, or wildlife - which probably accounts for most of the now-adult population - will probably have encountered Osprey Books somewhere in their development. These marvelous illustrated folio-style slim volumes with their beautifully detailed paintings of soldiers and materiel of all periods were a staple of my childhood. And now Osprey Publishing, the independent press behind the series, has been snapped up by Bloomsbury Publishing. According to Bloomsbury's announcement: Bloomsbury Publishing Plc ("Bloomsbury") announces that it has today completed the acquisition of the...
Merry Christmas, everyone! If you celebrate it, I hope you're enjoying it; if you don't, I hope you're at least enjoying the day off you probably got on account of someone else's religion. This year, I gave a number of books to people, including a Nero Wolfe novel to my father. And it got me to thinking about how great it would be to read those books again. A number of years ago, I obtained all 47 of them via means less than completely licit (I was a poor college student in those days), and read through them...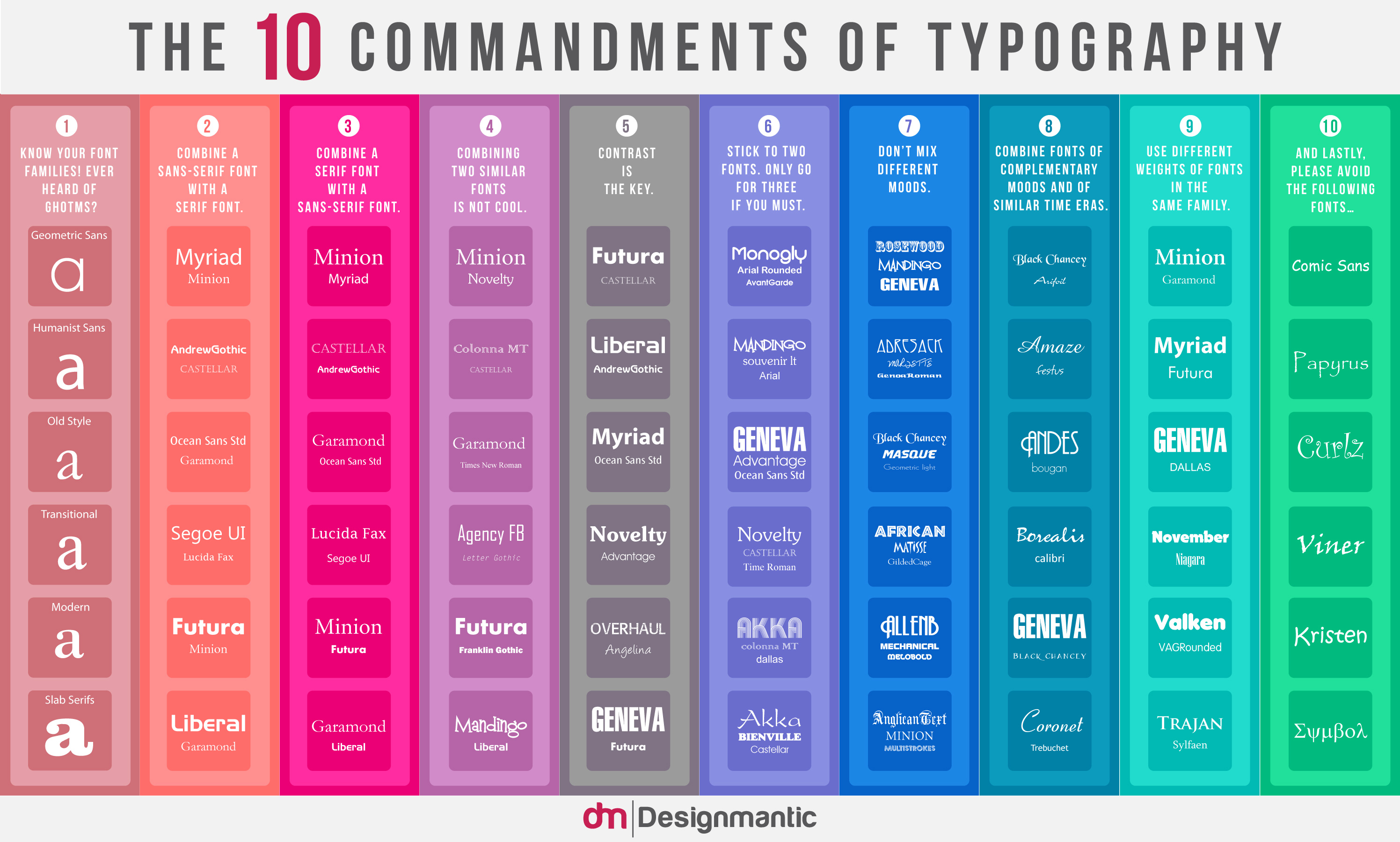 One design-oriented set of tips that actually might be quite useful for self-publishers and independent publishing houses is the "10 Commandments of Typography" shared by Yardley, PA, logo and graphic design studio Designmantic. Their visual breakdown of Typography 101 (or in this instance, 10.1) could make a great deal of difference to the font choices and internal layout of a self-published book, as well as to the cover design. For instance, the sixth commandment - "stick to two fonts. Only go for three if you must" - could lead to far fewer eye-straining design excesses. And the seventh - "don't mix...
Here are an interesting juxtaposition of posts that just came to light today. In the first, Kristine Kathryn Rusch at last returns to blogging about the publishing industry with an end-of-year post that is both interesting and scary. Last year, I wrote an open letter asking the Big Five publishers if they'd learned anything from the Apple verdict. In her new blog post, Rusch suggests that they have, and it might not be good news for the authors who sign with them. Touching once more on the sales problems inherent in publishers no longer being able to schedule book...

The UK's JISC (formerly Joint Information Systems Committee), a government-linked think tank for IT leadership in education, has just released a new article purporting to lay bare "the true cost of publishing in open access." The implication of this title, of course, is that open access publishing does involve costs, including unacknowledged ones. But if so, how far? The article quotes Research Libraries UK figures "that the UK's universities now pay around £192 million [$300 million] per year for access to academic journals and databases: that is nearly a tenth of the total QR budget for research funding." It details article processing...
Yesterday, the appeals court heard testimony from Apple and the Department of Justice relating to the e-book anti-trust trial appeal. To my surprise, two of the three judges seemed amenable toward Apple's point of view. They expressed concern over why the publisher collusion was such a bad thing when it was for the sake of stopping monopolist Amazon, and hinted that Judge Cote might have erred when she ruled that Apple's behavior constituted a pro se anti-trust violation—a violation so obvious that it doesn't need the "rule of reason" test applied to it. Apple attorney Theodore Boutros asked for...