More on TechnologyTell: Gadget News | Apple News
Publishing
The tradition that gave the world the dybbuk and the golem need yield to none when it comes  to the fantastic and the bizarre, but even so it's good to report two very unlikely, and superbly jacketed, anthologies forthcoming from Jurassic London: Jews vs Zombies and Jews vs Aliens. With a healthy dose of Jewish humor, these titles set out to chronicle the exploits of Judaism versus the undead - and the unearthly. "Jurassic London is proud to announce publication of a special pair of anthologies, edited by World Fantasy Award winning author Lavie Tidhar and acclaimed editor and writer Rebecca Levene,"...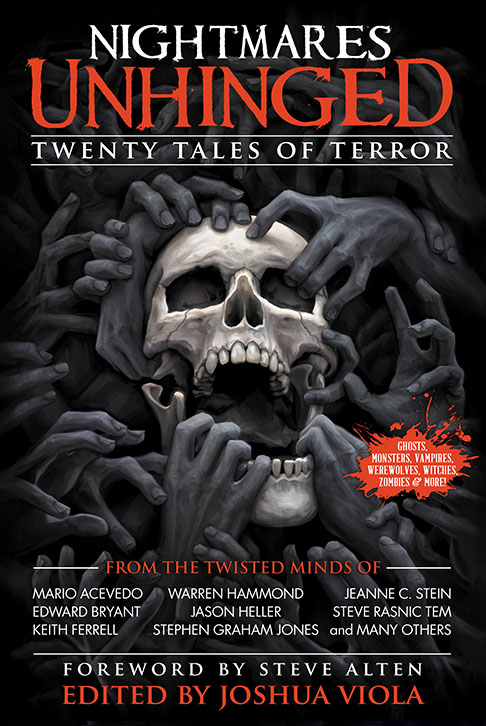 Hex Publishers, a new Denver, Co.-based independent publisher "founded by award-winning author Josh Viola and longtime bookseller Dean Wyant," has announced its first anthology, Nightmares Unhinged, due for publication in September 2015. According to the publisher's announcement, "Nightmares Unhinged will feature eighteen tales of dark and twisted fiction written by a roster of award-winning and bestselling authors," including "Mario Acevedo, bestselling author of the "Felix Gomez" vampire series; Nebula Award winner Edward Bryant; New York Times bestseller Keith Ferrell; Jeanne C. Stein, bestselling author of "The Anna Strong Vampire Chronicles," and Bram Stoker Award winner Steve Rasnic Tem. New York Times bestseller Steve...
Here's an interesting theme for a Humble Bundle. Brainiac kid's books, including books on coding, physics, website design and, of course, LEGO. Heck, that sounds like something this self-proclaimed geek adult might be interested in. The line-up looks quite intriguing. Customers can pay any amount of money and receive: Ruby Wizardry: An Introduction to Programming for Kids Lauren Ipsum: A Story About Computer Science and Other Improbable Things The Manga Guide to Electricity Snip, Burn, Solder, Shred: Seriously Geeky Stuff to Make with Your Kids The LEGO Adventure Book, Volume 1: Cars, Castles, Dinosaurs & More! Customers who pay more than the average user will also receive: LEGO Space:...
The Science Fiction Writers of America, or SFWA, has finally come through with its long-promised support for self-published and small press authors. A SFWA press release declares that complete details will be posted to the SFWA's membership requirements page by March 1, 2015. (I have been informed that SFWA's members refer to it as SFWA, sometimes pronounced "siff-wah," rather than the SFWA, so I shall do so within this article.) The press release states that the requirements for Active Membership are having earned at least $3,000 via novel (it's unclear whether that's from one or several such novels over...
For fifty-five years, To Kill a Mockingbird has been the only novel that Harper Lee published. It was successful enough that she simply didn't need to publish another one. That one book, published 55 years ago, has kept her comfortable for the rest of her life. But it turns out that To Kill a Mockingbird was actually the second novel that Harper Lee wrote—and now HarperCollins is going to publish the first one, Go Set a Watchman. It is scheduled for release July 2015. Lee explains that when she first wrote Go Set a Watchman, her editor was intrigued...
In today's Morning Links, I highlighted an interesting post from Dear Author on the subject of book prices and their relation to 'value.' It was an interesting question to me because I've just read a whole series of books on Kindle publishing which seem to take the total opposite view---they promote books not as an art form per se, but as a service. Let me explain. These books are all aimed at nonfiction authors, and their premise is that if you break up your longer book into several smaller ones, you'll have several advantages. On the business side, more books is...
Just a quick reminder: nominations for this year's Hugo Awards are upon us, and if you signed up for last year's (to get the entire Wheel of Time series that was included in the Hugo voter packet, for example) you're eligible to nominate now. Nominations are open through March 10, and you can update and change your ballot as often as you like. And I'd just like to stump for a book that I feel is extremely worthy of consideration: the four-volume history of the role-playing game industry, Designers & Dragons, which was published via Kickstarter last year. Given...
Sad to say, Egmont Publishing has had to close its US business after trying but failing to find a buyer. The official Egmont statement said: Egmont Publishing, which at $900 million is the largest division in the Denmark-based Egmont group, employing 2,400 people across 30 countries, has a new strategic focus, which is to invest in books and magazine businesses where Egmont can hold a leading market position. One of the outcomes has been the decision to exit the standalone position in the US market, which they entered in 2008. Attempts to sell Egmont USA since October 2014 have not resulted in...
The University of California Press has just announced a pair of initiatives that mark its major institutional push into scholarly open access, "Collabra and Luminos, two new open access programs for journal and monograph publishing." UC Press, which provides the academic publishing infrastructure for the University of California university system, including UC Berkeley and UCLA, and which claims to be "the world's greatest public research university," declares that: "Collabra and Luminos launch with a distinguished group of advisory board members, editors, authors, and reviewers from universities and associations around the globe." The announcement continues: The mega journal Collabra is based on an innovative model...
As per a Reuters report yesterday, the publisher of Nature and Scientific American, Germany's Holtzbrinck Publishing Group, is merging with Springer Science+Business Media, "creating a group with 1.5 billion euros ($1.75 billion) in annual sales." As well as showcasing the value locked up in scientific publishing, this merger also raises questions about the development of the field and the prospects for wider adoption of scholarly open access. Also included in the deal is educational and and social sciences publisher Palgrave Macmillan. The official Springer announcement read: Holtzbrinck Publishing Group (Holtzbrinck) and BC Partners (BCP) announced today that they have reached an agreement to merge Springer...
Cory Doctorow came over to Budapest at the invitation of the Center for Media, Data and Society of Central European University to speak on policing computers and other issues. In the course of a fascinating interview with me, he shared a slew of observations on a great many issues, many of which I'll be presenting in subsequent articles. To begin with, though, here are his thoughts on where self-publishing has got to, and what the whole Amazon-Hachette spat reveals about the impact of DRM on the market. The most important thing that self-publishing does isn't merely enriching the people who succeed in...
Two former executives at UK independent Quercus Publishing, Iain Millar and Nick Barreto, have partnered with Michael Bhaskar, currently digital publishing director at Profile Books and sometime digital publishing savant, to create Canelo, "a new digital publisher of engaging fiction and non-fiction released as ebooks, apps and on the web. Working closely with authors, readers, developers and other partners, we will bring great stories to new audiences." "The founders, who have worked for Profile Books, Pan Macmillan, Hachette, Quercus and Bloomsbury, among others, want to combine the best of traditional publishing with a fresh approach," continues Canelo's introduction. "We want to find...