Interview
Brandon Sanderson has a special place in his heart for Taiwan. The American author of the popular "Mistborn" and "The Stormlight Archive" series flew to Taiwan earlier this month to attend the annual Taipei International Book Exhibition and meet his Taiwanese fans.  According to book agent Gray Tan of Grayhawk literary agency, Sanderson's novels are popular here in translation. Of special interest for Sanderson was his 2012 visit to the National Palace Museum in Taipei which apparently inspired him to write the fantasy story [easyazon-link asin="1616960922" locale="us"]The Emperor's Soul[/easyazon-link] which won the 2013 Hugo Award for Best Novella. In his recent visit, the 39...
I was fortunate to speak with Bill Pollock of No Starch Press, just prior to their debut on the popular Humble Bundle service. I had contacted him because I was searching for Lego-themed books, and was delighted to find a publisher who both published such things, and also offered them DRM-free, and in print/eBook bundles! Pollock, as it turned out, was a tad on the old-school side, as far as that goes. He felt that if customers wanted an eBook copy too, it was easy enough to provide it for them, so why not. But he is a print man himself,...
Joseph S. Pulver Sr. is a major talent in modern dark/weird fiction, and one of the most gifted exponents of the legacy of Robert W. Chambers and H.P. Lovecraft. I asked him about his inspirations and working procedures. Teleread: What did you count as your primary influences and stylistic models, and how did you combine them?  Joseph S. Pulver Sr.: My primary... 60s AM radio. A Jefferson Airplane track followed by James Brown followed by the Buckinghams and Henson Cargil, proves anything can go with, be fitted to, anything when fit properly. When it comes to form I see the page as a canvas, so...
I met John Gilstrap last year at the Creatures, Crime and Creativity Conference in Maryland, and I became an instant fan. You may remember that I reviewed his first book, [easyazon-link asin="B006M0KPRU" locale="us"]Nathan's Run[/easyazon-link], last year. He was the Saturday keynote speaker at this year's conference, and it was one of the best speeches I've ever heard. Too bad this conference isn't one where every panel and keynote is recorded and posted on YouTube. It was worth hearing again. The gist of his message, to authors, was never give up, and he had the personal story to back it up. In...
I bumped into Michael Lederer, an American novelist living in Berlin, other day while watching an interview show on a German government satellite TV network, and his televised chat with British-born host Robin Merrill left me wanting to know more. So I picked up my iPhone and tapped out an email request for an interview and a few days later we were talking. Lederer's father, the late Ivo Lederer, was a refugee in the only group of European Jews given special passage by ship to the United States by President Franklin D. Roosevelt during World War II, and he later went...
After reading Michael Kelly's posts about the organizational work needed to reward the contributors to the crowdfunding campaign behind the critically acclaimed anthology Year's Best Weird Fiction Vol. 1, I contacted him for his comments on his work as series editor and on the complications of crowdfunding an anthology in the ebook era. Here are his replies. TeleRead: Are physical books still an important reward for crowdfunding campaigns? What does this say about the enduring status of print? Michael Kelly: The majority of people prefer a physical book, to be sure. But that gap is closing. Two-thirds of the contributor's to the Year's Best Weird...
I asked Peter Watts, author of the brilliant and genre-redefining science fiction novels Blindsight and Echopraxia, a few questions about his own working methods and the genre (or genres) he works in. Here are his responses. TeleRead: Do you see any ingrown shortcomings in the genre/subgenre you work in, and do you try to correct those? Peter Watts: I don't think I'm competent to answer this question; I'm not sufficiently familiar with the genre to make valid generalizations about its shortcomings. One of the few things that really bugs me about my life at this point is that I don't get much...
Simon Marshall-Jones is founding publisher and editor at Spectral Press, the small but already highly regarded British producer of horror and dark fiction chapbooks and anthologies. I spoke to him about what prompted him to publish in this genre and about how viable an operation of this kind is in the modern publishing environment. TeleRead: What prompted you to found an independent press focused on the horror/dark fiction genre? Simon Marshall-Jones: At my first convention in 2010, Fantasy Con in Nottingham UK, I was handed a pair of Nightjar Press chapbooks by Nicholas Royle to review for the website I was then working for. After...
[caption id="attachment_116356" align="alignright" width="210"] Author Harry Bingham[/caption] Harry Bingham reached out to me last week with a link to an article he published on his blog about the Amazon/Hachette situation. I was intrigued by his point of view and his intentions to become a hybrid author. He kindly agreed to an interview to expand on his views. His candor and openness impressed me, and I hope you feel the same. TeleRead: You've been a traditionally published author for fifteen years or so and yet you're embarking now on the process of becoming a true hybrid author: that is, one with books that...
From Finland, a new global talent emerges. Meet Emmi Itaranta. Itaranta's new climate-themed sci fi book [easyazon-link asin="0451223039" locale="us"]The Memory of Water[/easyazon-link] has been published in Finnish and 14 other languages worldwide. In a starred review, Publisher's Weekly described the book as "a deceptively tranquil examination of a world of dust and ashes where the tenacious weed of hope still survives." Her debut novel also won the Kalevi Jäntti Literary Prize in 2012 and the Young Aleksis Kivi Prize in 2013 in Finland. She is surely someone to watch. In a recent interview, I asked Ms. Itaranta if she thought of her book when...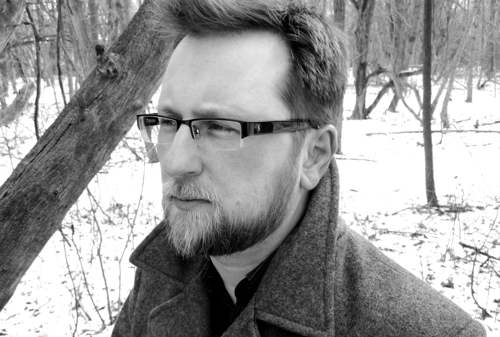 Acclaimed dark and weird fiction author Simon Strantzas is releasing his fourth collection of short stories, Burnt Black Suns, from Hippocampus Press. I spoke to him about the genre he works in and how he operates as a writer. TeleRead: Do you think that horror/weird fiction reflects or channels any current social/cultural concerns or shifts, as well as more perennial human preoccupations and anxieties? If so, what might the current resurgence in weird fiction be tapping into? Strantzas: I do, but I also feel that the full extent of this isn't all that clear as it's happening—it's only clear in hindsight. There are...
During GenCon 2013, I had the chance to speak with Sechin Tower, Lead Developer at Exile Game Studio and author of Mad Science Institute. I asked him about Exile's use of Kickstarters for publishing its game products, and this is what he had to say. Me: Tell me what Exile's been doing with Kickstarters. Sechin: Exile has been a recent comer to the Kickstarter market, but we've found it extremely useful to not only jumpstart a project that would take a little longer to get going, but to also get the word out and to give people a...