HarperCollins
For fifty-five years, To Kill a Mockingbird has been the only novel that Harper Lee published. It was successful enough that she simply didn't need to publish another one. That one book, published 55 years ago, has kept her comfortable for the rest of her life. But it turns out that To Kill a Mockingbird was actually the second novel that Harper Lee wrote—and now HarperCollins is going to publish the first one, Go Set a Watchman. It is scheduled for release July 2015. Lee explains that when she first wrote Go Set a Watchman, her editor was intrigued...
In the latest example of a pattern that I suspect is going to become increasingly common in electronic publishing, HarperCollins is not only offering an across-the-board seasonal sale of some of its most popular titles, but also appears to be trying to push this first and foremost through its own site. Under the ringing invitation to "Fill Your E-Reader," the discount page offers "All books $2.99 and under," with over 120 titles on sale. The clickthrough link on the HarperCollins sales page invites you to "purchase this e-book and read on the HC Reader App for iPhone/iPad, Android, or Kindle Fire,"...
News Corporation, that big bouncy Murdoch baby, demonstrated just how badly the Big Five publishers really need rescuing from Bezos's brutal bullying bugbear Amazon - by delivering quarterly results well above expectations, buoyed in part by strong performance at publishing unit HarperCollins. According to the results release, News Corp's performance for the first quarter of its 2015 financial year included "revenues of $2.15 billion compared to $2.07 billion in the prior year," and "the majority of the revenue increase reflects strength in the Book Publishing, Digital Real Estate Services and Digital Education segments and the inclusion of the results of Harlequin...
One of the rallying cries of author advocates and Amazon adversaries alike has been that publishers should start selling their books direct to the public instead of letting middle-man Amazon have so much power. Another rallying cry is that publishers should pay authors bigger royalties. Well, Publishers Weekly reports that HarperCollins is combining those two suggestions, in a way—it's offering authors an additional 10% royalty rate if they use an affiliate link on their web site to sell their book, e-book, or audiobook from HC's direct sale site. (The PW article isn't clear on the math; I'm assuming this means...
I'm hesitant to believe this story Nate's reporting, even after clicking the links and reading the sources for myself. How could anyone in the modern e-book market be this dumb? But the writing seems to be on the wall. Barnes & Noble has removed the "Download" button from its e-book library,  [Update: Nate's posted another piece indicating B&N cited "security" as the reason for the change.] It's no longer possible to download a book directly from the B&N web site to your hard drive by saving it from your B&N e-book library through your browser. And that...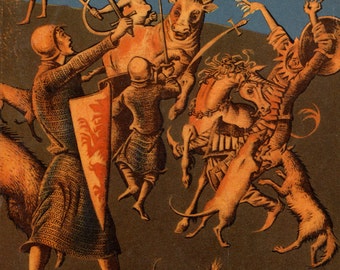 As reported earlier in TeleRead, HarperCollins launched its direct-to-consumer ebook sales platform, co-authored with Accenture, with C.S. Lewis and Narnia as its flagship media properties, in October 2013 in the form of the C.S. Lewis.com and Narnia.com websites. But that brave attempt at an end-run around Amazon and Smashwords has hit one little snag - C.S. Lewis's works are now out of copyright in Canada and elsewhere, and the Narnia series is now available for free in its entirety from the Project Gutenberg Canada website. "Find out how fans of C.S. Lewis are celebrating the life of this much-loved author 50...
Well, here's another Salon Amazon hit piece, at least sort of. Salon chose to headline it, "Neil Gaiman: 'I'm obviously pissed at Amazon'" but if you read the actual article, you find the quote was taken out of context. Gaiman feels that the anti-trust prosecution against the five major publishers and Apple was a bad move, but on the matter of Amazon versus Hachette, he is actually ambivalent: I'm a weird mixture right now, because on the one hand, I'm obviously pissed at Amazon. I'm a Hachette author in the U.K., my wife is a Hachette author now, and I'm very...
The Wall Street Journal reports hearing from "people familiar with the situation" that the first three publishers to settle—Hachette, Simon & Schuster, and News Corp's own HarperCollins—have received letters of inquiry from the Department of Justice, seeking information about "any recent pricing discussions they may have had with others in the industry." The rest of the article is basically background reminding folks of the price-fixing lawsuit the publishers settled, and the trouble Amazon is having with Hachette. There's really not a lot on which to speculate. It does seem clear, though, that given that the publishers are approaching the...
The Wall Street Journal has posted another scathing anti-Amazon editorial. It might be paywalled; if so you can bypass it by googling the headline. But I'm willing to bet you can guess pretty much exactly what it says without even reading it. Let's review: the Wall Street Journal is owned by Rupert Murdoch's News Corp, which also owns Big Five nee Six publisher HarperCollins. HarperCollins was originally going to stay out of the agency pricing cabal until Steve Jobs reached out to Murdoch's son James only two days before the iPad was going to launch, asking him to pressure...
Andrew Albanese at Publishers Weekly has the latest news in the Julie of the Wolves case. The affair began when Open Road agreed to publish an electronic edition of Jean C. George's book Julie of the Wolves. George, who has since passed away, and Open Road felt that the terms of George's contract with HarperCollins could not cover electronic editions, given that it had been signed decades before they were invented. She was also dissatisfied with the low royalty rate HarperCollins offered, whereas Open Road offered her 50%. HarperCollins filed suit, and the case was decided by summary judgment...
Kindle Daily Deal: Spider Woman's Daughter (and others) -- HarperCollins Acquisition of Harlequin and What it Means for Readers (Dear Author) I saw a number of people speculate that the sale of Harlequin had to do with Harlequin being in trouble financially and while Harlequin has seen decreasing profits in the recent years, it was still a healthy and profitable division of Torstar. -- The Novel is Dead (and This Time it's for Real) (The Guardian) Literary fiction used to be central to the culture. No more: in the digital age, not only is...
Harlequin is headed to HarperCollins. News Corp, which owns HarperCollins, made the announcement on Friday. It has acquired one of the leading publishers in women's fiction. Harlequin publishes the works of more than 1,300 authors and releases more than 110 titles monthly. About 40 percent of Harlequin's revenues come from books published in languages other than English. Currently, 99 percent of HarperCollins books are published in English, according to a release. There is an interesting statistic above regarding how Harlequin books are sold. About 40 percent of its revenues come from books that are not published in English, yet the overwhelming majority of...