More on TechnologyTell: Gadget News | Apple News
Events
Dubbed "a rock festival for words," the Leeds Big Bookend 2014 festival, running June 7th and 8th this year, for the third year running, will be headlining with "An Audience with Alan Bennett" at the West Yorkshire Playhouse, in a chance to meet and hear probably Leeds's most famous literary son. Other events in the program range from Multi-Sensory Storytelling to the  Index on Censorship Magazine Big Debate on Censorship and Propaganda in Wartime. Already featured in TeleRead, the The Big Bookend "is a non profit making company limited by guarantee with charitable objectives. Any extra money generated from the Big...
Well, here's some disappointing news. You know how, in recent years, the Hugo Voters Packet has included as many of the Hugo-nominated works as it was able to get out of its publishers? Including, this year, almost the entirety of the Wheel of Time series? (It's lacking the prequel novel which isn't directly connected to the storyline of the main series.) There's a fly in the ointment this year, and it's that, apart from Wheel of Time and Baen author Larry Correia's book, all the nominees for Best Novel were published by Orbit, the UK publisher and subsidiary of...
The Hugo nominations have been announced. One of the more interesting things to come out of the nominations this time around has been the inclusion of the entire Wheel of Time series for "Best Novel." This is something of a first for the Hugos, and would probably be at least mildly controversial in other years. (This year, what with the Jonathan Ross thing and another more recent kerfuffle that I might discuss in another post, it seems to rate as relatively minor on the outrage scale.) But one side-effect of that nomination is to make Supporting Membership in this...
During GenCon 2013, I had the chance to speak with Sechin Tower, Lead Developer at Exile Game Studio and author of Mad Science Institute. I asked him about Exile's use of Kickstarters for publishing its game products, and this is what he had to say. Me: Tell me what Exile's been doing with Kickstarters. Sechin: Exile has been a recent comer to the Kickstarter market, but we've found it extremely useful to not only jumpstart a project that would take a little longer to get going, but to also get the word out and to give people a...
When I attended GenCon Indy for TeleRead last year, I interviewed a number of self-publishing authors, game industry execs, and other people with interesting stories to tell. I've posted a few of these, but life has been so busy over the last few months that I have had a hard time getting around to doing most of them. I'm going to try to change that in the weeks to come. I've got another interview transcribed and posting later tonight. That being said, it's worth noting that if you're wanting to come to GenCon in Indianapolis this year,...
Earlier today, Susan wrote about Book Expo America adding a celebrity author convention this year. I find this interesting, but I wonder what they're trying to prove here. Not many of those celebs are known for being writers; they're celebs who are also writers. (Martin Short? Angelica Huston? Really?) And even the ones who are writers, like Grisham and Stan Lee (who didn't even write for a book publisher to begin with), became so famous for their writing that now they're more famous for being famous. Why don't they just drop all pretense and get Snooki in...
Happy World Book Day! Just because there are no e-books involved in the "official" World Book Day promotion doesn't mean there aren't any to be found. Diane Duane and her husband Peter Morwood are offering one e-book each for free download today. Duane's is the New Millennium Edition of So You Want to Be a Wizard, first in her excellent Young Wizards series. Morwood's is Greylady, first in his Clan Wars series. If you haven't dipped your toe yet into Young Wizards, So You Want NME is a great way to start. I reviewed it for...
Here's an interesting article from The Nation about problems the feminist movement is having in discussions on Twitter. The fundamental problem is "intersectionality": people in the feminist movement are other things besides "just" female—they're rich or poor, they're white or minority, and so on—and people at one end of a spectrum find things to be angry at the people on the other end about, even though they ostensibly share a common cause. And this anger is compounded by the Twitter discussion medium, whose short bite-sized chunks can lead to a spectacularly toxic environment. I don't really have anything to...
Today saw another blowup in a series of memorable events in recent history pertaining to sexism and science fiction. And the SFWA wasn't even involved this time! The organizers of LonCon3, the London SF convention playing host to Worldcon and hence the Hugo Awards this year, announced today that British TV personality Jonathan Ross had agreed to emcee the Hugos. This immediately sent a shockwave through the community, because Ross has a history of raunchy and sexist humor on the air. A number of prominent SF writers and personalities declared their dismay, including Seanan McGuire, who tweeted: ...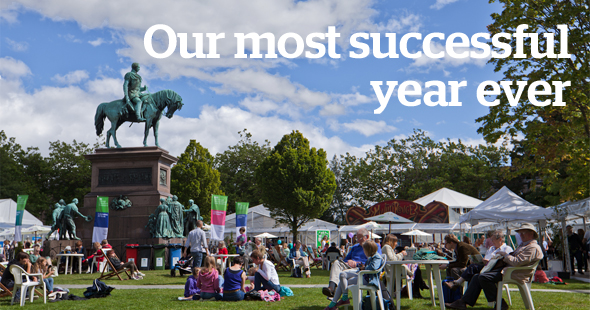 This year's Edinburgh International Book Festival - the annual literary jamboree for the first ever UNESCO City of Literature - has commenced preparations with the announcement of the 2014 official dates, August 9th-25th. Last year's Festival, already featured in TeleRead, was "our most successful year ever," the Festival site declares. As per its own introduction, the Festival claims to be "the largest public celebration of the written word in the world. Every August we bring over 800 writers and thinkers from across the planet together to rub shoulders with you, the audience ... The Edinburgh International Book Festival began in 1983...
Here is another interview from this year's GenCon, in which I spoke briefly with a number of self-published or independently-published authors in the authors' alley. In this interview, I spoke with Lee Cherolis, writer and co-creator of a webcomic and graphic novel series called Little Guardians. Me: Tell me about your books. Lee: Little Guardians is a fantasy adventure graphic novel series; we're also serializing online two pages a week. We put out a book whenever we have enough pages. This story arc will span 13 chapters and six books. We have Book One...
I last spoke to Phil Reed, COO of Steve Jackson Games, at GenCon in 2011. We discussed e23, Steve Jackson Games's DRM-free PDF e-book store, which had expanded far beyond its original intended goals of just republishing out-of-print stuff to publishing in-print stuff at the same time as or even before it came out in print. I caught up with him again at GenCon 2013 for another brief interview. We touched on e23's ongoing success, but Reed had more to say on the subject of Kickstarters—something that was on the minds of a number of other writers and industry...