More on TechnologyTell: Gadget News | Apple News
Events
The British Fantasy Society, in conjunction with renowned London-headquartered science fiction, fantasy, and horror emporium Forbidden Planet, is bringing together a pumpkinfest of feted horror authors for the Mass Hallowe'en Signing & BFS Open Day Social on Saturday October 25th, at Forbidden Planet's original 179 Shaftesbury Avenue chamber of horrors, kicking off at 10.00 am. Afterwards, there'll be a sociable get-together at The Bloomsbury pub on Shaftesbury Avenue for book and horror talk, with free entry to both events. Modestly titled "The Greatest Hallowe'en Signing of All Time," the event assembles the following writers, illustrators, and editors, according to Forbidden Planet's...
Here is a montage of shots from the Edinburgh International Book Festival 2014 - just to give you all a taste. And here's to next year - in another country, perhaps ? ...
The Edinburgh International Book Festival 2014 wrapped up its three-week run in Edinburgh's Charlotte Square Gardens on Monday August 25th with a strong finish and scant sign of any slackening off in numbers or enthusiasm among attendees. Ticket sales kept up with last year's record numbers, according to the Festival press team, and the whole series of events picked up fresh pertinence and energy from a topic seldom far from anyone's lips on or off the podium: the independence debate and the referendum less than a month away. "Over the last 17 days, the Book Festival has welcomed over 800 authors...
I made it to Edinburgh once again this year for the 2014 Edinburgh International Book Festival, and will be reporting from now on until its end in a week's time. And just in case anyone still needs reminding, this is a critical month in a critical year for Scottish nationhood, cultural and otherwise, with the referendum on Scottish independence less than four weeks away. And yes, I missed George R.R. Martin, but there's a real-life game of thrones happening right here right now - though with far more ink spilt than blood. So far it's as buzzy and lively as you'd...
Loncon 3, the 2014 incarnation of Worldcon and "the 72nd World Science Fiction Convention," held at ExCel in London's Docklands, is playing host this Sunday August 17th to the Hugo Awards, "the leading award for excellence in the field of science fiction and fantasy," in an event due to be streamed live to fans worldwide. According to information already released by Loncon 3, "participation in the Hugo Awards is now officially at an all-time high. Loncon 3 received 3,587 valid Hugo Award final ballots (3,571 online, 16 paper). The previous high was 2,100 final ballots cast by members of the...
GenCon is coming up this weekend, at the Indianapolis Convention Center (that kind of flat building at right, visible between those two red towers) here in scenic Indianapolis. Are any of our readers planning on attending? It would be cool to have the chance to meet some of you! I'm highly excited about it; this is the first time I'll be attending as a resident rather than an out-of-towner. I can bicycle home at the end of the day rather than having to drive a rental car down to my brother's house. I'm probably going to be around Thursday and...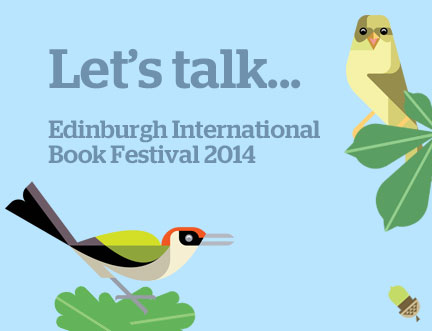 The Edinburgh International Book Festival begins its formal program for 2014 today with "over 900 internationally-renowned writers and thinkers from 47 countries around the world" and a theme of "Let's Talk" which directly recalls the so-called National Conversation consultation exercise which led up to the historic referendum on Scottish independence due next month. And while the referendum and the issue of Scottish independence is not at all the only item on the program, it is coloring much of the content of this year's Festival and giving it an historic flavor of its own. Scotland's First Minister Alex Salmond and former UK Prime...
Well, the New York Public Library panel discussion on Amazon was a big disappointment. I suppose I should have expected it, given how the panel was stacked with some of Amazon's harshest critics and others from the old-guard publishing industry, but I had harbored some hope they might be willing to listen to an opposing viewpoint. Unfortunately, it was even worse than I'd feared. The 90-minute video is available at the livestream page if you want to watch the carnage. First of all, the meeting was clearly put together with an anti-Amazon agenda, as the selection of...
Just a friendly little reminder to block out 7 to 9 p.m. Eastern tonight to watch the panel discussion that the New York Public Library is hosting on Amazon's business tactics, featuring James Patterson, Bob Kohn, and Passive Guy. It will be livestreamed, and promises to be rather entertaining. I'll try to write up some thoughts about it afterward, or tomorrow....
Nate mentioned this New York Public Library panel discussion, "Amazon: Business As Usual?" a few days ago. It's going to have a number of the loudest complainants about Amazon taking part, including James Patterson and Bob Kohn. I wondered what the point was, given that it seems the deck was largely stacked with publishing-industry types who have ample reason to dislike Amazon. That was before I learned that David Vandagriff, aka "Passive Guy" from The Passive Voice blog, will also be taking part. One of big publishing's most outspoken critics, he is assured to have plenty to say at...
Porter Anderson at FutureBook reports on a presentation given by Sara Lloyd, Pan Macmillan's digital and communications director, at the "FutureBook Hack" conference. (TeleRead previously carried an open letter to Ms. Lloyd from Brian Ford of Lendle.) Lloyd was gung-ho about wanting publishing to move forward with digital and take things to the next level. She said things like "I think we haven't done the great things yet and that's what you guys are here for," and "Ask what you can do for readers, not what you can do to solve the problems of publishers." ...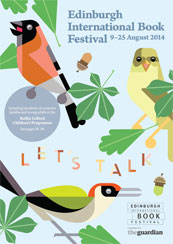 Since being killed by George R.R. Martin is apparently the latest fad, I'm glad to be able to report that if you turn up for this year's Edinburgh International Book Festival, there is a slight but distinct possibility that he may kill you too. He might knock the mike over onto your head during a reading. Or his hired car might run you over. He might even trigger a fatal attack of GoTMania during his talk on "Creating brave new worlds." After all, you have a much greater chance of being killed by him if you go to the Festival...