More on TechnologyTell: Gadget News | Apple News
Events
Just a friendly little reminder to block out 7 to 9 p.m. Eastern tonight to watch the panel discussion that the New York Public Library is hosting on Amazon's business tactics, featuring James Patterson, Bob Kohn, and Passive Guy. It will be livestreamed, and promises to be rather entertaining. I'll try to write up some thoughts about it afterward, or tomorrow....
Nate mentioned this New York Public Library panel discussion, "Amazon: Business As Usual?" a few days ago. It's going to have a number of the loudest complainants about Amazon taking part, including James Patterson and Bob Kohn. I wondered what the point was, given that it seems the deck was largely stacked with publishing-industry types who have ample reason to dislike Amazon. That was before I learned that David Vandagriff, aka "Passive Guy" from The Passive Voice blog, will also be taking part. One of big publishing's most outspoken critics, he is assured to have plenty to say at...
Porter Anderson at FutureBook reports on a presentation given by Sara Lloyd, Pan Macmillan's digital and communications director, at the "FutureBook Hack" conference. (TeleRead previously carried an open letter to Ms. Lloyd from Brian Ford of Lendle.) Lloyd was gung-ho about wanting publishing to move forward with digital and take things to the next level. She said things like "I think we haven't done the great things yet and that's what you guys are here for," and "Ask what you can do for readers, not what you can do to solve the problems of publishers." ...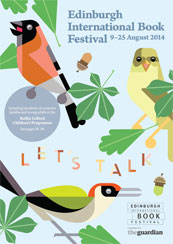 Since being killed by George R.R. Martin is apparently the latest fad, I'm glad to be able to report that if you turn up for this year's Edinburgh International Book Festival, there is a slight but distinct possibility that he may kill you too. He might knock the mike over onto your head during a reading. Or his hired car might run you over. He might even trigger a fatal attack of GoTMania during his talk on "Creating brave new worlds." After all, you have a much greater chance of being killed by him if you go to the Festival...
For those who signed up for LonCon membership to get the Hugo Voting Packet containing free e-books (such as almost all of Wheel of Time), LonCon has made the packet available. Go to the Voter Packet page. You'll need your LonCon membership number and PIN, which should be in an email in your inbox with the subject line "Loncon 3 PR3 and your Hugo PIN." Once you've logged in, you'll be presented with the options to download the category material shown at right. (And if you haven't signed up yet, it's only about $45 for a voting membership,...
Dubbed "a rock festival for words," the Leeds Big Bookend 2014 festival, running June 7th and 8th this year, for the third year running, will be headlining with "An Audience with Alan Bennett" at the West Yorkshire Playhouse, in a chance to meet and hear probably Leeds's most famous literary son. Other events in the program range from Multi-Sensory Storytelling to the  Index on Censorship Magazine Big Debate on Censorship and Propaganda in Wartime. Already featured in TeleRead, the The Big Bookend "is a non profit making company limited by guarantee with charitable objectives. Any extra money generated from the Big...
Well, here's some disappointing news. You know how, in recent years, the Hugo Voters Packet has included as many of the Hugo-nominated works as it was able to get out of its publishers? Including, this year, almost the entirety of the Wheel of Time series? (It's lacking the prequel novel which isn't directly connected to the storyline of the main series.) There's a fly in the ointment this year, and it's that, apart from Wheel of Time and Baen author Larry Correia's book, all the nominees for Best Novel were published by Orbit, the UK publisher and subsidiary of...
The Hugo nominations have been announced. One of the more interesting things to come out of the nominations this time around has been the inclusion of the entire Wheel of Time series for "Best Novel." This is something of a first for the Hugos, and would probably be at least mildly controversial in other years. (This year, what with the Jonathan Ross thing and another more recent kerfuffle that I might discuss in another post, it seems to rate as relatively minor on the outrage scale.) But one side-effect of that nomination is to make Supporting Membership in this...
During GenCon 2013, I had the chance to speak with Sechin Tower, Lead Developer at Exile Game Studio and author of Mad Science Institute. I asked him about Exile's use of Kickstarters for publishing its game products, and this is what he had to say. Me: Tell me what Exile's been doing with Kickstarters. Sechin: Exile has been a recent comer to the Kickstarter market, but we've found it extremely useful to not only jumpstart a project that would take a little longer to get going, but to also get the word out and to give people a...
When I attended GenCon Indy for TeleRead last year, I interviewed a number of self-publishing authors, game industry execs, and other people with interesting stories to tell. I've posted a few of these, but life has been so busy over the last few months that I have had a hard time getting around to doing most of them. I'm going to try to change that in the weeks to come. I've got another interview transcribed and posting later tonight. That being said, it's worth noting that if you're wanting to come to GenCon in Indianapolis this year,...
Earlier today, Susan wrote about Book Expo America adding a celebrity author convention this year. I find this interesting, but I wonder what they're trying to prove here. Not many of those celebs are known for being writers; they're celebs who are also writers. (Martin Short? Angelica Huston? Really?) And even the ones who are writers, like Grisham and Stan Lee (who didn't even write for a book publisher to begin with), became so famous for their writing that now they're more famous for being famous. Why don't they just drop all pretense and get Snooki in...
Happy World Book Day! Just because there are no e-books involved in the "official" World Book Day promotion doesn't mean there aren't any to be found. Diane Duane and her husband Peter Morwood are offering one e-book each for free download today. Duane's is the New Millennium Edition of So You Want to Be a Wizard, first in her excellent Young Wizards series. Morwood's is Greylady, first in his Clan Wars series. If you haven't dipped your toe yet into Young Wizards, So You Want NME is a great way to start. I reviewed it for...