More on TechnologyTell: Gadget News | Apple News
Events
As I've said before, Gen Con's reputation as the largest gaming convention in North America eclipses its status as one of the largest writing conventions in North America, offering guidance on all aspects of writing and publishing. On Monday, March 23, Gen Con's CEO sent a letter (PDF) to Indiana's Governor Mike Pence, warning that a controversial religious freedom bill he was about to sign into law would affect Gen Con's decision whether to stay in Indianapolis past the expiration of its contract in 2020. This morning, Governor Pence signed that bill. I covered the particulars in a post...
The London Book Fair has issued a statement about its first "Creative Industries Day," designed to create partnerships "to open up new rights opportunities for publishers at the fair across film, TV, interactive media, games, comics and graphic novels." The event, scheduled for Thursday April 16th, will involve "a host of visitors, speakers and delegations drawn from the worlds of film, interactive, games and app developers, as well as publishers of comics and graphic novels. These creative industries professionals will share their expertise on how intellectual property can be extended into new areas of the media." Bodies like the Children's Media...
On February 26th, the U.S. celebrates National Tell A Fairy Tale Day, which could displace International Talk Like A Pirate Day as my favorite unofficial holiday. Although its origins appear shrouded in almost complete mystery, National Tell A Fairy Tale Day is widely attested, as the occasion to "snuggle up in your corner chair or sofa with the children sitting near you or maybe all gather around a campfire as it is a day to celebrate by telling your favorite fairy tale or making up one of your own." And fairy tales are anything but outdated. As Marina Warner remarks in her...
The London Book Fair has just issued a release to announce that it "will be holding the first 'virtual conference' for the world of publishing on 18 March 2015. Around The World in 8 Hours will follow the world of publishing across the globe in a day-long series of social media events, culminating with a focus on publishing in the US. These will examine the similarities and differences in the world of book publishing's key markets, covering everything from the Chinese love of serialised fiction to India's mania for contemporary fiction that reworks the country's ancient epics." This event series is...
Burns Night, held on January 25th every year to commemorate the memory of Robert Burns, has succeeded in identifying a single poet with a whole nation more than perhaps any other country on earth. How? Well, they began soon after the poet's death in 1796, informally among hs friends and acquaintances, but then on a more organized basis after the meeting of "nine gentlemen of Ayr," at the poet's birthplace in 1801, when a haggis formed part of the meal in his memory. The first established Burns Club, the Alloway Burns Club, formed as a result of this dinner, and the Greenock...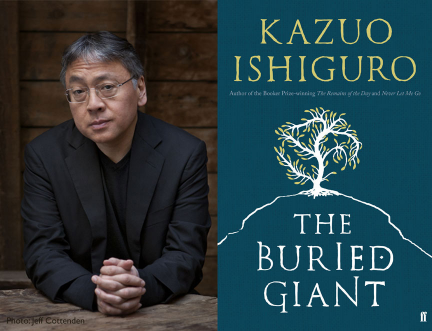 The Edinburgh International Book Festival, which hosts the Scottish capital's key literary event of the year every August, has further expanded its program of all-year outreach events with the announcement of a special spring event starring renowned Anglo-Japanese novelist Kazuo Ishiguro. The event, to be held at Edinburgh's Royal Lyceum Theatre on Thursday March 5th, 2015, presented in association with Ishiguro's Faber & Faber and supported by the recent grant from the People's Postcode Lottery, "will see the celebrated author discuss his highly anticipated stunning new work, The Buried Giant," his first new novel for ten years. "We are thrilled and proud to...
As heralded in Teleread earlier, self-publishing poster child Joe Konrath and Matthew Yglesias, Executive Editor of Vox, appeared against Franklin Foer, former editor of The New Republic, and attorney and author Scott Turow, in the Intelligence Squared debate in New York , last weekend, arguing the motion: "Amazon is the reader's friend." And whatever one thinks of the merits of the arguments on both sides of the fence, the outcome was fairly conclusive: before the debate 41 percent were for the motion, 28 percent against, and 31 percent undecided; afterwards, 42 percent were for, 50 percent were against, and 8 percent undecided....
New York-based debating circle with Intelligence Squared U.S. (IQ2US), bringing you "Oxford-style debates live from New York City," has put up an alert for a soporific and unprovocative little debate to open 2015, on the topic of: "Amazon Is The Reader's Friend." That ought to elicit absolutely no controversy or attention whatsoever ... The IQ2 introduction to the proposition reads: In late 2014, Amazon and the publishing house Hachette settled a months-long dispute over who should set the price for e-books. In Amazon's view, lower prices mean more sales and more readers, and that benefits everyone. But for publishers, the price of an e-book...
As many will know, the British Library has been hosting a great show on the Gothic tradition, "Terror and Wonder: The Gothic Imagination," since October. It's the ideal show for the Christmas period, given the well-known British propensity for linking the festive season to ghost stories, horror movies, and dark and hideous imaginings of all kinds. And now, the British ghost hunter's favorite free magazine, Spectral Times, is holding a giveaway of tickets for the show in its latest issue, with two entry passes available in return for answering a simple question. The issue of the magazine is readable in full...
The Edinburgh International Book Festival has just announced a  £175,000 ($275,000) grant that will enable it to branch out from its normal remit of organizing the summer Festival events at Charlotte Square Gardens "to give greater numbers of people access to authors and live literature events across Scotland." The grant comes from the People's Postcode Lottery, which donates to a range of charitable causes from the proceeds of lotteries based on UK postal codes. Nick Barley, Director of the Edinburgh International Book Festival, spoke of "a vibrant and wide-reaching new outreach and learning initiative which will focus on engaging adults, young people and...
Following the recent news of the resurfacing of the near-legendary "Joan Anderson Letter" from Neal Cassady to Jack Kerouac, which gave us On The Road in its current form, Profiles in History, the auction house selling the letter, is hosting a media event on the morning of December 1st at "The Heart of The Beat Generation's History in North Beach, The Beat Museum," showcasing the letter "This One and Only Time, to Select Media in its Newly Discovered Entirety." The Beat Museum, which rejoices in the URL www.kerouac.com, "is home to an extensive collection of Beat memorabilia, including original manuscripts and first...
The Books on Tyne Literary Festival, a.k.a. the Newcastle Book Festival, is convening a literary gathering in Newcastle upon Tyne, one of northern Britain's most unique and characterful cultural communities, for non-Brits out there. Cradle of the legendary Geordie dialect, Tyneside is also the nursery of British literary talents like Basil Bunting and Tom Pickard. "After a successful Festival last year, we have been working hard to produce an even bigger and better programme of events for as many people as possible to enjoy," runs the Festival's introduction. "With a general theme of "On the Edge", we have brought together writers...