More on TechnologyTell: Gadget News | Apple News
Book review
Stephen Volk has been in the writing game a very long time. He has also been working on films for an equally long time, with screenwriting credits going back as far as Ken Russell's Gothic in 1986 and some notable efforts such as 1988's The Kiss, which makes him better equipped than most any other writer to tackle the early life of Alfred Hitchcock. Leytonstone, his deep dive into a very Hitchcockian childhood, is in fact a novella, initially due for release as a limited signed and numbered hardback, with only 125 copies to be printed, as well as an unlimited...
With Christmas near, the evenings drawing in, the fog pooling in the alleys, and rapt listeners gathering closer round the fire to hear dark tales of quivering horror, now seems a good time to review Tales of Jack the Ripper, Ross E. Lockhart's superlative collection of modern-day stories inspired by one of London's most notorious sons. Or daughters. Or halfbreed offspring of drug-mutated monsters. Or deathless pursuers of fungoid parasites. Or any one of the 19 interpretations of that great unsolved mystery that you'll find in this book. Ross E. Lockhart, an author in his own right, has already built his...
The first Zippered Flesh anthology from Smart Rhino Publications was a delirious and often disgusting switchback ride through a very dark subgenre of horror. Zippered Flesh 2: More Tales of Body Enhancements Gone Bad! brings together 22 more extremely unsettling tales of ... what it says in the title and subtitle. Actually, that's not entirely true: There's a bit of a drift from the subtitle description, in that a lot of the stories concern body horror but not body enhancements, but then the first anthology was the same and none the worse for it. Perhaps there's a just a shade more repetition and...
You likely won't need a doctorate in post-structuralist hermeneutics to deduce that The Nickronomicon is Nick Mamatas's collection of his shorter Lovecraftian fiction, beautifully put together by Innsmouth Free Press with some really splendidly squamous illustrations from GMB Chomichuk. The whole collection of 13 stories is an engagement with, or an interrogation of the Lovecraftian legacy, typified by the kickoff story "Brattleboro Days, Yuggoth Nights," Mamatas's piece of fake Lovecraft literary archaeology, based on the chance discovery of a postcard sent back and forth between HPL himself and his correspondent Arthur H. Good­e­nough. And the metatextual assault on the Lovecraft corpus...
Tartarus Press is becoming one of the most diverse as well as the most accomplished and fastidious independent UK presses devoted to horror and dark fiction, and The Loney by Andrew Michael Hurley is absolutely off their ordinary beat and all the more striking for it. Instead of the society and theatrical pieces of Reggie Oliver, or the decadent horrors of Mark Samuels, we have the grim, bleak realm of poor man's English Roman Catholicism, and a chilling coastal setting in the remote Lancastrian preserve of the title - "a dangerous place. A wild and useless lenght of English coastline. A dead...
Joseph S. Pulver Sr. is one of the leading authors and editors in the modern dark/weird fiction genre constellation, and Blood Will Have Its Season was his first collection of short fiction. It instantly put the author on the map with its resonant title and its daring and experimental fusion of Surrealism and Expressionism with pulp and hard-boiled influences, as well as heady whiffs of Symbolist and Decadent prose and, of course, the cosmic horror of H.P. Lovecraft and Robert W. Chambers. It even has a foreword by S.T. Joshi, doyen of Lovecraftian studies. Renowned horror editor Ellen Datlow made eight out of...
Regular TeleRead readers will probably have tumbled by now to the recent series of Faber and Faber reprints and recompilations of stories by the brilliant, enigmatic, and influential British writer of strange stories, Robert Fordyce Aickman. Cold Hand in Mine is probably the jewel of the series, as well as perhaps the best single-volume introduction to the writer's work. Originally republished in the Faber Finds series, these eight stories from the middle period of Aickman's career, selected by him, showcase some of his most diverse and imaginative productions, including "Pages from a Young Girl's Journal," which won the World Fantasy Award with...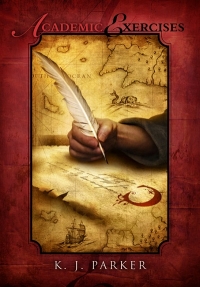 K.J. Parker is a two times World Fantasy Award-winning author, and also something of a mystery - the name is a pseudonym and the real identify of the author has never yet been revealed. The official K.J. Parker website doesn't shed much light on the enigma, although it does list the author's excellent series of longer works. Academic Exercises is his first collection of shorter fiction, but "he" here is a convention, since K.J. Parker could well be as female as J.K. Rowling. It's quite a collection too, at 536 pages long, with two World Fantasy Award-winning novellas ("A Small Price to...
Laird Barron's third and most recent short story collection, The Beautiful Thing That Awaits Us All almost needs no introduction: it's Laird Barron's third collection. For many enthusiasts and proselytes of the current renaissance in dark and weird fiction, that's all they will need to know. Superlatives fall from its hide like Geatish spear points from Grendel's. And such wide, and wide-eyed, acclamation might seem open to question if it weren't for the (almost) uniform excellence of the contents. This is the kind of collection destined to find the same sort of place in the history of its genre currently occupied...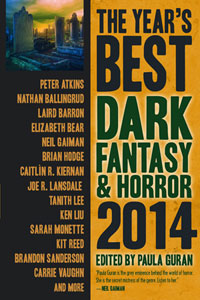 The latest in the excellent Year's Best Dark Fantasy and Horror series, edited by Paula Guran, does a pretty good job of living up to exaclty what it says on the cover, and pulling together the year's real best achievements in the genre/genres. Some of the 32 tales will be familiar from elsewhere, especially to an avid dark sider like me, as many have already been anthologized or otherwise put out in book form. That doesn't change the fact that if you want to get a very broad and compendious perspective on the field - at 576 pages and 32 stories...
The fun part about going to writer's conference is that you meet lots of writers and get opportunities for review copies, especially if you let folks know you review books. KM Rockwood is a delightful person, and I was happy to accept a review copy of her latest book, [easyazon-link asin="B00K2L77XU" locale="us"]Brothers in Crime[/easyazon-link]. When she asked me if I wanted the first in the series or a later book, I opted for the latest book, to see if book would stand alone as well as she said it would. The good news is that it does. However, this is an odd...
Laird Barron is approaching iconic status in the horror and dark fiction community with almost frightening speed. How many other living authors get a tribute anthology paying homage to their aesthetic when they're only just into their fourth book? Anyone who is waiting for the bubble to burst, however, is probably going to have to sit around for quite a while longer. At least if Occultation and Other Stories is anything to go by. This volume of nine stories, with an introduction by the much-missed Michael Shea, won the 2010 Shirley Jackson Award for a Single-Author Collection, just as his first...