More on TechnologyTell: Gadget News | Apple News
Book review
Regular TeleRead readers will probably have tumbled by now to the recent series of Faber and Faber reprints and recompilations of stories by the brilliant, enigmatic, and influential British writer of strange stories, Robert Fordyce Aickman. Cold Hand in Mine is probably the jewel of the series, as well as perhaps the best single-volume introduction to the writer's work. Originally republished in the Faber Finds series, these eight stories from the middle period of Aickman's career, selected by him, showcase some of his most diverse and imaginative productions, including "Pages from a Young Girl's Journal," which won the World Fantasy Award with...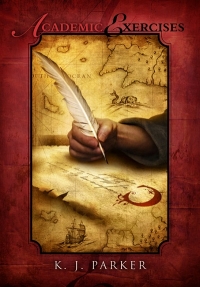 K.J. Parker is a two times World Fantasy Award-winning author, and also something of a mystery - the name is a pseudonym and the real identify of the author has never yet been revealed. The official K.J. Parker website doesn't shed much light on the enigma, although it does list the author's excellent series of longer works. Academic Exercises is his first collection of shorter fiction, but "he" here is a convention, since K.J. Parker could well be as female as J.K. Rowling. It's quite a collection too, at 536 pages long, with two World Fantasy Award-winning novellas ("A Small Price to...
Laird Barron's third and most recent short story collection, The Beautiful Thing That Awaits Us All almost needs no introduction: it's Laird Barron's third collection. For many enthusiasts and proselytes of the current renaissance in dark and weird fiction, that's all they will need to know. Superlatives fall from its hide like Geatish spear points from Grendel's. And such wide, and wide-eyed, acclamation might seem open to question if it weren't for the (almost) uniform excellence of the contents. This is the kind of collection destined to find the same sort of place in the history of its genre currently occupied...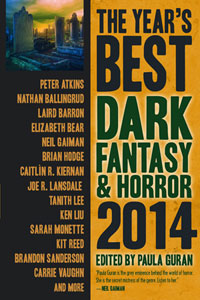 The latest in the excellent Year's Best Dark Fantasy and Horror series, edited by Paula Guran, does a pretty good job of living up to exaclty what it says on the cover, and pulling together the year's real best achievements in the genre/genres. Some of the 32 tales will be familiar from elsewhere, especially to an avid dark sider like me, as many have already been anthologized or otherwise put out in book form. That doesn't change the fact that if you want to get a very broad and compendious perspective on the field - at 576 pages and 32 stories...
The fun part about going to writer's conference is that you meet lots of writers and get opportunities for review copies, especially if you let folks know you review books. KM Rockwood is a delightful person, and I was happy to accept a review copy of her latest book, [easyazon-link asin="B00K2L77XU" locale="us"]Brothers in Crime[/easyazon-link]. When she asked me if I wanted the first in the series or a later book, I opted for the latest book, to see if book would stand alone as well as she said it would. The good news is that it does. However, this is an odd...
Laird Barron is approaching iconic status in the horror and dark fiction community with almost frightening speed. How many other living authors get a tribute anthology paying homage to their aesthetic when they're only just into their fourth book? Anyone who is waiting for the bubble to burst, however, is probably going to have to sit around for quite a while longer. At least if Occultation and Other Stories is anything to go by. This volume of nine stories, with an introduction by the much-missed Michael Shea, won the 2010 Shirley Jackson Award for a Single-Author Collection, just as his first...
After the endless, shambling horde of faceless zombie horror anthologies, The Book of the Dead presents stories centred on a rather more ancient and dignified genus of animated corpse: the Mummy. It also comes with a sort of official endorsement from the actual tradition of Egyptology, being "published in collaboration with the Egypt Exploration Society, the UK's oldest independent funder of archaeological fieldwork and research in Egypt," and introduced by John J. Johnston, Vice Chair of the Society. The selection doesn't rest on its premises, and the 19 stories range far wider than simply animated-bundle-of-bandages tales. If anything, the keynote of the anthology is variety...
Public health warning: This book has been known to induce anomie, despair, alienation, disenchantment, toxic doubt, and pervasive crawling fear. It has also been known to make people write about it ecstatically. I'm not the first to succumb. And this isn't a new book review: The Imago Sequence has been around spreading terror and acedia since 2007, picking up a Shirley Jackson Award along the way. It also, incidentally, put its author on the map - in the same way that the 1883 eruption put Krakatoa on the map. The geography of horror would never be the same again. Rather, this...
The Year's Best Weird Fiction project has quietly been gathering quite a volume of buzz on its way to Volume 1, which is due out shortly in October. For one thing, it's edited by Laird Barron, himself one of the best current practitioners of this not-quite-genre. And it doesn't hurt that its list of authors include  a wish list of his peers: Jeffrey Ford, Simon Strantzas, Joseph S. Pulver Sr, Scott Nicolay, John Langan, Richard Gavin, and W. H. Pugmire, among others. Also, it comes from the very estimable house of ChiZine Publications, already producer of some fine anthologies from Ellen...
It's no secret that the animated TV show Robotech had a big formative influence on me when I was growing up. I still use the handle "Robotech_Master" for my Twitter, Facebook, and other personal Internet accounts, and I still love the show. And my main foray into podcasting, Space Station Liberty, is about Robotech. On Space Station Liberty, I've interviewed a number of the actors and writers associated with the show, including the late Carl Macek himself. Today at 10 a.m. Pacific/1 p.m. Eastern, I'm going to be interviewing another: Frank Catalano, voice actor for the characters Rand,...
Blindsight, the immediate predecessor to this novel, was one of the most original, inspiring, disturbing works of science fiction in recent memory - a First Contact story that practically rewrote the entire sub-genre, and ensured that no other attempt at that theme could ever be the same again - not least because of the questions it raised about what contact with an alien intelligence might imply about ours. Peter Watts has doubled down with [easyazon-link asin="076532802X" locale="us"]Echopraxia[/easyazon-link], which picks up from the same timeline and follows to even more disquieting destinations. Readers who haven't encountered Blindsight already will miss a lot of the tropes in Echopraxia,...
Author, teacher of writing, anthologist, jokester, sometime radical, father-of-adorable-infant and allround nihilistic kid Nick Mamatas has written across genres and voices with wit, zip, and flair through "six and a half novels" and a slew of shorter works. He was even partly responsible for bringing Edge of Tomorrow to our screens by adapting the Japanese original of the story, All You Need Is Kill, into graphic novel form. Love Is the Law is his foray into something like neo-noir or crime fiction, but definitely with a genre-spinning twist that loops in occultism and some urban fantasy as well as far-left...