More on TechnologyTell: Gadget News | Apple News
Book review
I don't read much traditional mythology anymore. There was a time in school when we were forced to read Greek, Roman or Norse mythology. So, stories have gotten stuck in my head over time. Names, places and situations pop up in entertainment in books, movies, TV shows and comics that borrow from these stories, always reminding me of the good old days. [easyazon-link asin="B008UUIGB2" locale="us"]I Bring the Fire Part I : Wolves (A Loki Story)[/easyazon-link] by C. Gockel is that kind of story, using Loki as one of its main characters. The good news is that I didn't need to have much...
Darkscapes collects 15 dark tales by the highly regarded French horror and fantasy author Anne-Sylvie Salzman, translated into mannered and highly effective English prose by William Charlton. Salzman's subjects are sinister rather than brutal, and often push dark psychology into the territory of fantasy or surrealism: A doctor obsessed with a cyclops girl in a traveling freakshow; a prosthetic craftsman equally fixated on the beautiful recipient of the artificial eyes he makes; a feral young vagrant feeding off rats and dead bodies in a Paris park. And they are highly effective, albeit occasionally vague, and a really attractive addition to...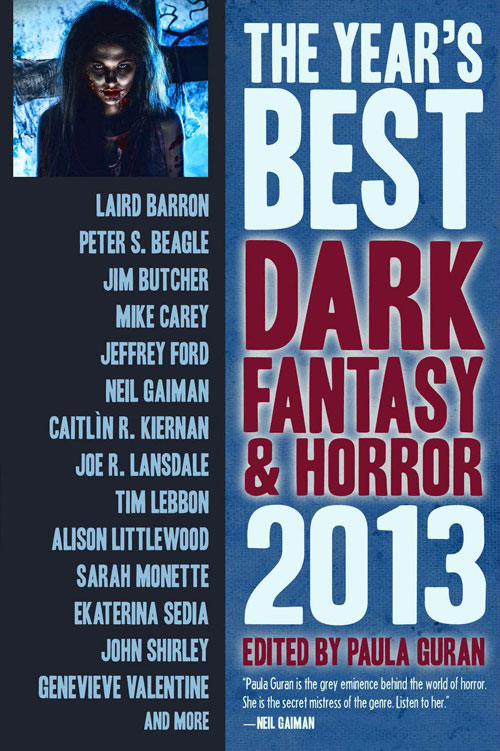 This collection of 35 dark tales groups stories that have appeared in other collections or in magazines, so readers should check the list of contents in Prime Books' online catalog to make sure of what is really new to them before parting with their money. But that's almost the only qualification that needs to be made to an otherwise excellent guide to what's been going on on the literary dark side through 2012. There are established names, like Neil Gaiman and John Shirley. There are rising stars of the smaller press and alternative/ fan circuit, like Laird Barron and Cory Skerry....
Edwin George Morgan (April 27, 1920 – August 17, 2010), Scotland's first official modern Scots Makar (the Caledonian Laureate), died recently leaving a huge financial legacy to the Scottish National Party and to various literary and cultural causes, and a far greater poetic legacy to modern Scottish literature. His achievement is impressive in its sheer size and persistence as much as anything else: This 2012 ebook update of Morgan's 1996 collection comprises 858 pages of his poetry, commencing with an early poem, 'Sculpture', from 1939, as a prologue, and finishing with a personal 'Epilogue' by Morgan, composed in 1990. Reading...
When I reviewed Pines last year for another site, I enjoyed it but thought the ending was flat. Apparently I had missed the fact that Pines was the first book in a series. Wayward is the second book in the series, and I think the first book works much better now that there's a second. The basic premise of the series is that a genius, David Pilcher, foresaw the end of humanity and captured and froze select individuals to rebuild humanity thousands of years in the future. Pines covers Ethan Burke, a former Secret Service agent, waking up in Wayward Pines and...
Canadian "numinous horror and esoterica author" Richard Gavin has released four collections since his debut "Charnel Wine" in 2004, and has garnered the kind of reputation that many writers would sell their souls for. This collection, his fourth, has received reviews varying from the enthusiastic to the ecstatic. There are thirteen stories, including a fictionalized prologue so dark that it definitely counts as one. There is the nightmare encounter with a dead god in "The Abject," where a wilderness becomes a metaphysical landscape that fulfils a myth in the most horrible but perhaps redemptive way. There is the new and quite...
A recent New York Times Bookends feature focused on writers reviewing other writers—specifically the argument of "should they or shouldn't they?" Zoë Heller and Adam Kirsch discussed the topic, touching on why some authors are reluctant to review others, but also why it's important to do so. Heller writes: "Some recuse themselves from reviewing any contemporary fiction at all. Others review only those novels they can praise in good faith. Still others adopt a tactful, discursive reviewing style that allows them to write about books they don't rate without actually copping to an opinion." Kirsch writes: "Write a bad review and you make an enemy for...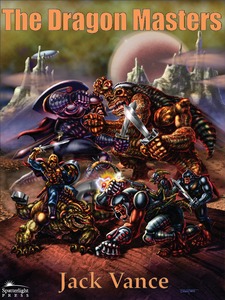 Thanks to Jack Vance, my early teens were haunted by dragonish monstrosities with such names as Termagants, Striding Murderers, Juggers, and Blue Horrors. These weren't drawn from a young adult story, but from one of Vance's most concentrated, intensely imagined and effective evocations of a place and above all, a society, very remote from ours, in time, space, and mindset. "The Dragon Masters" was one of the classics that consolidated his early reputation, and it has worn very well with time. Note that this book is an example of how mutable the standards of story length can be, as well as the...
I got this book from the recent Humble Bundle, and I went into it expecting to like it. I was a huge "Star Trek" fan back in the day, and I never 'hated' Wesley Crusher the way some fans seemed to. I've also enjoyed his recurring bit part on "The Big Bang Theory," so I was expecting a fun read. And I got ... an OK read. My main issue was that although all of his stories were technically about separate incidents, the incidents all were about the same few themes, so they got tiresome. There was the "auditioning for a part if...
"Dust" is the final instalment in indie darling Hugh Howey's Silo Saga, which began with "Wool" in 2011 and concludes with this just-released title. I picked it up on release day because I enjoyed the previous two volumes and also because Hugh Howey sells his work free of DRM, and I am all for that! "Dust" picks up where the "Shift" omnibus left off, with Donald and his sister Charlotte hiding in Silo One and trying to unravel the end game for the silo folks, while Juliette struggles as mayor of an untrusting Silo 18. While Lukas, her lover, picks up...
Former actor, and playwright and author Reggie Oliver has been named more than once as the rightful successor to M. R. James and Robert Aickman in the English tradition of the weird tale. "The Complete Symphonies of Adolf Hitler," his second collection from the superlative British independent house Tartarus Press (already featured in TeleRead), is another chance to find out why. Originally published in 2006, it was re-released earlier this year as an e-book, with original illustrations by the author, who is a talented draftsman as well. There are sixteen stories in this very generous, and generously priced, collection, plus an introduction...
Jonathan Grimwood's "The Last Banquet" comes garnished with superlatives, so much so that I'll promise to avoid serving up more stale double entendres about "a feast of a book." Suffice it to say that this life story of Jean-Marie Charles, Marquis d'Aumout, from his earliest memory in 1723 "crunching happily on a stag beetle" in the ruins of his starved parents' manor, to his death in 1790 with sans-culottes pounding at his door, has earned its author a Michelin three-star ranking that casts any Brit celebrity chef into the shade. Jonathan Grimwood has spent over 15 years writing genre fiction, chiefly...