Barnes & Noble
Barnes & Noble announced it will separate its retail and e-book businesses from its college offering, making it a standalone company. Barnes & Noble Education will be come a separately publicly traded company in August, the company announced this week. With negative news surrounding B&N over the last couple of years due to its declining business with its store fronts and Nook division, the college segment has been a bright spot for the company seeing gains in revenue. Currently, B&N is working on a plan to expand its college bookstores to 1,000 units as part of a five-year plan. According to the Wall...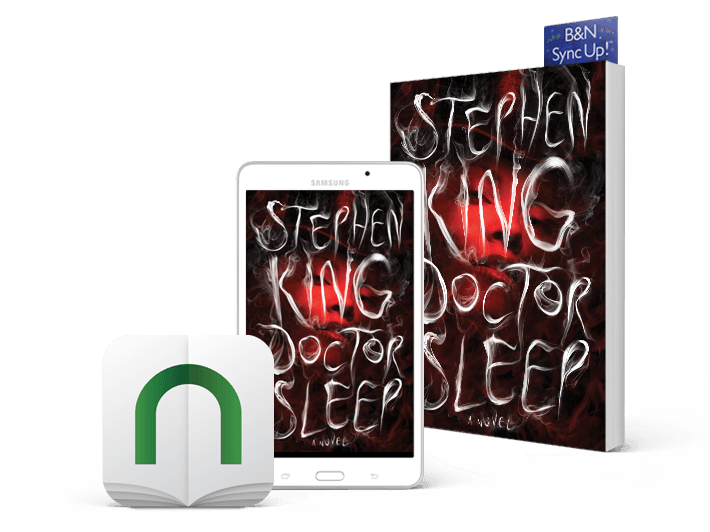 Barnes & Noble has introduced another service to lever off its bricks-and-mortar presence into greater ebook market share with the rollout of B&N Sync Up, which offers ebook pairings with a selected series of paperback titles - but for an additional $4.99. "Buy the paperback, get the eBook for $4.99. Keep both or gift either," explains the B&N site. "Choose from select paperbacks including The Secret Life of Bees, The Brief Wondrous Life of Oscar Wao, A Discovery of Witches, and dozens more — all at your local B&N store. Keep one, share one — great for gift-giving." Titles in the program...
I first saw a post by Hugh Howey discussing the potential cost versus befits of going exclusive with Amazon a few days ago. I was thinking of saying something about it, but it kind of takes on added significance with the news about Barnes & Noble removing the "Download" button from its e-book library. Howey's post is worth reading, but lends itself to easy summarizing. Essentially, Amazon provides a number of added benefits and incentives to writers who publish exclusively via Amazon either temporarily or continually: free giveaway days, or inclusion in e-book subscription services such as the...
I'm hesitant to believe this story Nate's reporting, even after clicking the links and reading the sources for myself. How could anyone in the modern e-book market be this dumb? But the writing seems to be on the wall. Barnes & Noble has removed the "Download" button from its e-book library,  [Update: Nate's posted another piece indicating B&N cited "security" as the reason for the change.] It's no longer possible to download a book directly from the B&N web site to your hard drive by saving it from your B&N e-book library through your browser. And that...
A widely quoted report in the New York Times details a partnership between Barnes & Noble and Google to create a same-day book delivery service utilizing Google Shopping Express. According to the report, "book buyers in Manhattan, West Los Angeles and the San Francisco Bay Area will be able to get same-day deliveries from local Barnes & Noble stores through Google Shopping Express." Barnes & Noble is already up on the icon panel of Google Shopping Express partners. With the Amazon/Hachette spat still unresolved, the NYT unsurprisingly chooses to put an anti-Amazon spin on this news, claiming that "Amazon poses a...
According to the Wall Street Journal, Barnes & Noble is going to split off Nook into a separate division. Barnes & Noble Inc. said it would pursue a split of its retail and Nook e-reader businesses into two separate public companies, the next chapter in its bid to shore up its foundering business as readers' book-buying habits evolve. The bookseller said it plans to complete the separation by the end of the first quarter of the next calendar year. This hardly comes as a surprise. If you've been following B&N news at all, you've seen that they've had several bad years in a row, and...
I meant to cover this piece from The Weeklings when it popped up on The Passive Voice the other day. To my surprise, it's reprinted on the normally rabid pro-publisher/anti-Amazon Salon Magazine this morning, so I guess I have no excuse now. In this article, J.E. Fishman traces authorial woes all the way back to the 1930s when Penguin began to flood the market with cheap paperbacks. This kicked off a paperback revolution among US publishers. Through all of this disruption no one asked authors what they thought. When it came to business, authors were...
Well, here's another Salon Amazon hit piece, at least sort of. Salon chose to headline it, "Neil Gaiman: 'I'm obviously pissed at Amazon'" but if you read the actual article, you find the quote was taken out of context. Gaiman feels that the anti-trust prosecution against the five major publishers and Apple was a bad move, but on the matter of Amazon versus Hachette, he is actually ambivalent: I'm a weird mixture right now, because on the one hand, I'm obviously pissed at Amazon. I'm a Hachette author in the U.K., my wife is a Hachette author now, and I'm very...
Late last month, I was having trouble with my Nook pre-order of Skin Game (the new Dresden Files book), and I discovered, mostly by accident, that you could open Nook Books in Adobe Digital Editions. My pre-order downloaded fine to my Nook, but it was corrupted on Nook for PC. I went to the website, mostly thinking it would be in vain, and I saw a Download button. I figured I'd see what would happen. It downloaded as a normal-looking .epub, and I double-clicked on it, thinking it would open in Nook for PC. Instead, it opened in Aobe Digital Editions. The...
Two different op-eds have popped up on CNN and Al Jazeera suggesting that Amazon, big bully that it is in the Hachette negotiation, needs to be taken down a peg under the Robinson-Patman Act. (If you didn't hear a raspy voice say "I'm Patman" when I mentioned the name of that law, I'm pretty sure you did just now.) Robinson-Patman is an anti-predatory-pricing regulation that's on the books dating back to the '30s, intended to prevent businesses from charging different prices in different towns to undercut local competition, or from using their size to bully suppliers into giving...
There's a theme in the triad of Amazon/Hachette articles I found this morning, and the theme is…competition. First of all, here's a rare op ed in favor of Amazon that originally appeared in CNN's "Fortune" section. (Though it seems to have vanished from there; the link no longer works and the author reposted it on his own blog.) Len Sherman rebuts an earlier anti-Amazon piece by Adam Lashinsky and argues that Hachette's background as an illegal colluder suggests it is more interested in keeping prices high, whereas Amazon wants to keep them lower for consumers. ...
Ever since I got my Nexus 7, my Nook HD has been kind of languishing. I'd upgraded it to the most recent Jelly Bean Cyanogenmod version a while back, but I was curious: what might Kit Kat be like on it? Could I run it? Given that I had the Nexus, I wasn't in danger of losing my only Android tablet solution if I screwed it up, so I figured, why not break me off a piece? I found some not terribly user-friendly instructions, puzzled my way through them, and commenced. It worked for me, so I'm going to tell you...