More on TechnologyTell: Gadget News | Apple News
Authors
I have just finished my first five-star read of the year---which I know is not saying much given that it's only February, but it's been a long time since I've read a book which really knocks my socks off. The book---[easyazon-link asin="B008QXVDJ0" locale="us"]The Golem and the Jinni[/easyazon-link] by Helene Wecker---is set in turn-of-the-century New York City (and is rich in historical details of this period) and finds the two titular mythical creatures washed up randomly upon its shore. The Jinni, a creature of fire, finds water-logged New York City unsettling, and hooks up with a mentor (a Syrian tinsmith) who tries...
Imagine having to share one Harry Potter book with 12 of your closest friends – and it was the only book you could read for weeks or even months. Any of the Harry Potter books are fun to read, but after the third consecutive reading you probably no longer need the book to recount the lines. That's the situation a number of American soldiers face overseas. Armand Rosamila is trying to change that with the Authors Supporting Our Troops book drive. Rosamila has heard stories of the lack of books soldiers have overseas. So, he is collecting signed books from authors and publishers...
Long after a story has been told, authors may go back and look at the finished work. Sometimes the reaction is one of the pride and peace. They can relax feeling it turned out right. But, sometimes, authors may have regrets about the choices they made for certain characters. J.K. Rowling is in the news again after she told British fashion magazine Wonderland that Hermione Granger should have ended up with Harry Potter and not Ron Weasley. "I wrote the Hermione/Ron relationship as a form of wish fulfillment," Rowling told the magazine (She was being interviewed by actress Emma Watson). "That's how it...
This crossed my desk a few days ago, and since Jack Matthews has been written about on TeleRead in the past, I thought I'd note his recent passing. I read the old article, and I thought it was interesting how a (then) living author with 20+ books had been so ignored by the Internet. No books on Kindle. No Wikipedia entry. No reviews of book that were available on Amazon. (I checked, and they aren't now.) Those of us who write about publishing talk about how the Internet now means that books will be available forever and how that's a good thing....
Aspiring author Monica Clark had an interesting encounter recently. She asked famous author Nicholas Sparks a question at a recent event, according to her blog. She asked Sparks this: "I noticed that when female writers write about relationships or an emotional journey, no matter how deep and well-written it is, it's usually described as chick lit. Have your books ever been described as chick lit? And how do you think the response to your books or your career would have been different if your name had been Nicole Sparks instead of Nicholas Sparks?" Oh boy. The answer could have gone a number of ways...
Nicole Storey started writing as way to help her son. He is autistic and she wrote a book where the main character is an autistic boy like her son. He went on a wild adventure to save his friends. Little did she know she would end up publishing Grimsley Hollow: The Chosen One and it would become part of a much larger series. Storey note writes books for children and young adults. It provides unique challenges in reaching those audiences. Storey has to relate to the children while also connecting with adults to show them her books are worthwhile. I got a chance...
I've been a huge fan of Tom Clancy, and his work since I was a teenager, and yesterday's news of his death hit me hard. Later in the day, I was having coffee with a friend, who mentioned Clancy during our conversation. Something told me he didn't yet know of the news, and I asked, "You do know he died today, right?" His face fell, and he said, "No, I hadn't." We both shared a spontaneous moment of silence. It felt pretty crummy to break the news to someone, but at least we weren't alone. For those of you who might...
Thanks to Nate at The Digital Reader for his comprehensive write-up of the new Goodreads content policy designed to 'protect' authors from cyber-bullying by overly exuberant readers. Goodreads couched the announcement as a friendly 'note regarding reviews' and it begins with 'reviews should be about the book' and then goes from there. The new measures include revised author guidelines, which Goodreads says it developed because "it's clear that some problems have come up because some authors who are new to Goodreads don't know what's appropriate on Goodreads and/or take matters into their own hands rather than flagging content that they feel...
In one of the ironies of my ebook adoption journey, the shelf space I used to occupy with books is being given over to a range of non-book items with markedly book-esque themes. There is the art print of Edgar Allan Poe's The Raven; which was gifted to me by my Beloved; there were the vintage Winnie the Pooh books my Grandma left me that I had shadowboxes built for so I could display them as a memento. Now, the book bling has invaded my kitchen too! Our latest novelty find was this stunning mug, adorned with insults; pulled from...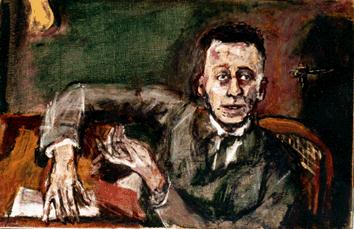 Jonathan Franzen has got a big hate on against Amazon. In fact, he declares, "in my own little corner of the world, which is to say American fiction, Jeff Bezos of Amazon may not be the antichrist, but he surely looks like one of the four horsemen. Amazon wants a world in which books are either self-published or published by Amazon itself, with readers dependent on Amazon reviews in choosing books, and with authors responsible for their own promotion." This in the context of an essay that repeatedly harps on the Apocalypse, whether technological, ecological, or political. So when Franzen equates Bezos...
The New York Times is one of several outlets reporting that crime novelist Elmore Leonard has passed away at 87 years old. According to the article, Leonard had his first story published in 1951 and "60 years later, was still churning out a book a year." He is known for novels such as 'Glitz' and 'Get Shorty,' some of which were also adapted for movie and television. I personally haven't read much by Elmore Leonard, but I know my father is a fan of his work, and I am sure he will be missed in literary world. ...
Book Riot has a great write-up on the recent release of Forbes magazine's top-earning authors of the year. Jill Guccini begins by asking us to put aside for a moment any idealized notions we may have about what people "should be" reading. This list, with E.L. James, James Patterson, Suzanne Collins, Bill O'Reilly and Danielle Steel heading off the top five, represents what they actuallyare reading, and there is value in knowing that. There is also some reassurance in considering the demographics. There is roughly an even split of male and female authors, and some young adult ones thrown in too. Guccini concludes: "So when I look...