More on TechnologyTell: Gadget News | Apple News
Authors
Aspiring author Monica Clark had an interesting encounter recently. She asked famous author Nicholas Sparks a question at a recent event, according to her blog. She asked Sparks this: "I noticed that when female writers write about relationships or an emotional journey, no matter how deep and well-written it is, it's usually described as chick lit. Have your books ever been described as chick lit? And how do you think the response to your books or your career would have been different if your name had been Nicole Sparks instead of Nicholas Sparks?" Oh boy. The answer could have gone a number of ways...
Nicole Storey started writing as way to help her son. He is autistic and she wrote a book where the main character is an autistic boy like her son. He went on a wild adventure to save his friends. Little did she know she would end up publishing Grimsley Hollow: The Chosen One and it would become part of a much larger series. Storey note writes books for children and young adults. It provides unique challenges in reaching those audiences. Storey has to relate to the children while also connecting with adults to show them her books are worthwhile. I got a chance...
I've been a huge fan of Tom Clancy, and his work since I was a teenager, and yesterday's news of his death hit me hard. Later in the day, I was having coffee with a friend, who mentioned Clancy during our conversation. Something told me he didn't yet know of the news, and I asked, "You do know he died today, right?" His face fell, and he said, "No, I hadn't." We both shared a spontaneous moment of silence. It felt pretty crummy to break the news to someone, but at least we weren't alone. For those of you who might...
Thanks to Nate at The Digital Reader for his comprehensive write-up of the new Goodreads content policy designed to 'protect' authors from cyber-bullying by overly exuberant readers. Goodreads couched the announcement as a friendly 'note regarding reviews' and it begins with 'reviews should be about the book' and then goes from there. The new measures include revised author guidelines, which Goodreads says it developed because "it's clear that some problems have come up because some authors who are new to Goodreads don't know what's appropriate on Goodreads and/or take matters into their own hands rather than flagging content that they feel...
In one of the ironies of my ebook adoption journey, the shelf space I used to occupy with books is being given over to a range of non-book items with markedly book-esque themes. There is the art print of Edgar Allan Poe's The Raven; which was gifted to me by my Beloved; there were the vintage Winnie the Pooh books my Grandma left me that I had shadowboxes built for so I could display them as a memento. Now, the book bling has invaded my kitchen too! Our latest novelty find was this stunning mug, adorned with insults; pulled from...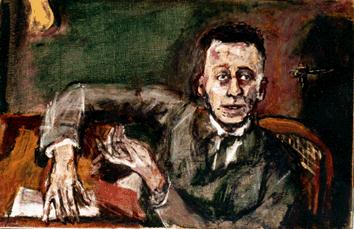 Jonathan Franzen has got a big hate on against Amazon. In fact, he declares, "in my own little corner of the world, which is to say American fiction, Jeff Bezos of Amazon may not be the antichrist, but he surely looks like one of the four horsemen. Amazon wants a world in which books are either self-published or published by Amazon itself, with readers dependent on Amazon reviews in choosing books, and with authors responsible for their own promotion." This in the context of an essay that repeatedly harps on the Apocalypse, whether technological, ecological, or political. So when Franzen equates Bezos...
The New York Times is one of several outlets reporting that crime novelist Elmore Leonard has passed away at 87 years old. According to the article, Leonard had his first story published in 1951 and "60 years later, was still churning out a book a year." He is known for novels such as 'Glitz' and 'Get Shorty,' some of which were also adapted for movie and television. I personally haven't read much by Elmore Leonard, but I know my father is a fan of his work, and I am sure he will be missed in literary world. ...
Book Riot has a great write-up on the recent release of Forbes magazine's top-earning authors of the year. Jill Guccini begins by asking us to put aside for a moment any idealized notions we may have about what people "should be" reading. This list, with E.L. James, James Patterson, Suzanne Collins, Bill O'Reilly and Danielle Steel heading off the top five, represents what they actuallyare reading, and there is value in knowing that. There is also some reassurance in considering the demographics. There is roughly an even split of male and female authors, and some young adult ones thrown in too. Guccini concludes: "So when I look...
Victoria Veel (her pen name) was born in 1986 in Cologne, Germany, and has also lived in New York City, Bogotá, and currently in Barcelona, where she finished her Master's degree in social sciences and business management. Veel (pictured below) has been writing novels since she was a child, and now focuses mainly on the romance and erotica niche. Her book, "Die Verführung einer Fremden" ("Seduction of a Stranger"), was published in July 2013 and is already number one in the Erotic Fiction category in the German Kindle Store, and is now number two after the German edition of "Fifty Shades...
Even Catherine Ryan Hyde is surprised at her recent success. The American writer is best-known for her 1999 book, "Pay It Forward," which was made into a move. She is also the founder of the Pay It Forward Foundation. With the release of Hyde's latest book, "When I Found You," which is currently climbing the bestseller lists, the book publishing world is once again taking notice of the author. Hyde was recently ranked at the top of Amazon's Author Ranks, besting JK Rowling; she's still in the top 10. That success is bringing added attention to other novels Hyde has written. TeleRead recently interviewed the author...
A chance Facebook encounter with a signing event showcasing four authors, including Mercedes Murdock Yardley, who I interviewed previously for TeleRead, set me speculating and inquiring about the current state and future prospects of author signings, and how these were evolving in the Kindle era. [caption id="attachment_90915" align="aligncenter" width="605"] Signing by Juli Caldwell, Mercedes Murdock Yardley, Shantal Hiatt Sessions, and Wendy Knight[/caption] Unsurprisingly, many service providers have jumped on the principle of digital book signing. Authorgraph was one of the first to target this market, and its creator, Evan Jacobs, links its genesis to a signing involving a Kindle: "One time, during the summer...
Following Susan Lulgjuraj's earlier coverage of the work of the Alliance of Independent Authors (ALLi), the prominent London-headquartered "nonprofit, professional association for self-publishing writers" is now taking an even more active role on behalf of the self-publishing and indie author community, petitioning "booksellers, libraries and literary festivals to Open Up To Indie Authors." The petition, online at Change.org, targets not just the UK book trade, but is addressed to booksellers associations worldwide—the American Booksellers Association, Australian Booksellers Association,  Canadian Booksellers Association, and UK Booksellers Association—as well as libraries. It urges these "to find ways to include self-publishing writers as a matter of priority." "With a target of...