More on TechnologyTell: Gadget News | Apple News
Apple
Here's a twofer of Apple anti-trust suit stories. First, from Andrew Albanese at Publishers Weekly comes the news that a February 21 Apple filing opposing summary judgment in the damages phase has been made public, and it's pretty clear the gloves are off. Apple is outright accusing Judge Cote of bias, claiming that statements she made in the order denying the antitrust monitor stay suggest she's already decided what the damages should be. I wish I could find the filing; it doesn't seem to be in PACER. I'd love to read it for myself. I'm pretty sure this...
Ars Technica reports that Apple has filed a 75-page opening brief in its appeal of Judge Cote's decision finding it guilty of engaging in a conspiracy with the publishers to help raise prices. The Ars article has a reasonable summary of Apple's arguments. Fundamentally, many of them are the same arguments that lost it the case in trial court: it just negotiated the most favorable contract for itself, and couldn't be blamed for what the publishers, busy little bees that they are, imposed on other retailers. It acted to increase competition by making it possible for new players...
Looks like Apple is doing whatever it can to flee from Judge Cote. Andrew Albanese reports at Publishers Weekly that Apple has filed a motion to split the state and class-action agency pricing lawsuits away from the Department of Justice trial and move them to districts in northern California and west Texas, respectively. It argues that they had only been consolidated for the purposes of pre-trial activity only, and now that said activity is over, they should get to move back to the districts where they had been filed. (I checked PACER but didn't find any of these filings there...
The Apple anti-trust affair proceeds apace. In the wake of the appeals court decision allowing the monitor's work to go ahead, Andrew Albanese reports at Publishers Weekly, Judge Cote has assigned a magistrate judge to act as a first-line mediator to resolve any disputes between Apple and anti-trust monitor Michael Bromwich, subject to appeal to her. (It's the same magistrate, Michael Dolinger, who was also assigned to arbitrate the matter of Bromwich's fee, so apparently his brief has been widened.) Cote also told Apple it needs to go ahead and fork over all the documents Bromwich requested by February 26th....
The appeals court has issued its ruling on Apple's request to have the anti-trust monitor stayed in the e-book price-fixing anti-trust trial. Perhaps unsurprisingly, Apple's appeal has been denied. That being said, the appeals court did issue what it saw as instructions "narrowing" the monitor's focus. The monitor is, the court said, supposed to make sure Apple has an anti-trust compliance program in place and that employees are being taught about what it means and how it works. He is not supposed to rummage around looking for violations of anti-trust or other laws. In the two-page document (PDF), court...
One of the things that bemuses me about the Apple antitrust trial is the polarization you get from observers of the case. It seems like everyone (including, admittedly, me) either believes Amazon is a saint and Apple and the publishers are the devil, or vice versa. Nowhere is that more clear than in the coverage of the hearing today on whether to stay the external compliance monitorship. Depending on who you read, either "Apple gain[ed] no sympathy" at the hearing (WSJ, paywalled; get around it with Google News) or "The odds are in Apple's favor today" (Fortune, with Apple partisan...
The Apple e-book case proceeds apace. The class plaintiffs filed a brief asking for summary judgment of damages and putting forward their estimate of the final damage to consumers as being between $231 and $280 million—18.1% of the revenue taken in from e-books during the period in question. With the treble damages, that means Apple could be on the hook for as much as $840 million altogether. Apple has, of course, objected to the estimate, and seeks to bar the testimony of Stanford economist Roger Noll who came up with it. Though, as plaintiffs' lawyer Steve Berman pointed...
I often hear news about Kobo or Google or whomever launching a 'killer' new device to try and steal market share from Apple, and this weekend, I had an object lesson in why that never seems to work out for them: customer service. I don't personally know anyone who has tried to reach Google tech support, but a quick search at MobileRead turned up numerous complaint threads about Kobo. Contrast that to my recent Apple experience. They recently made their iWork suite available for free to new device owners. I assumed I didn't qualify since my devices were purchased long before...
Yesterday I received a press release from ReDigi, the company trying to allow (and monetize) the resale of "used" digital goods such as music or e-books, with an embargo time of, well, right now. The release claims the award of a patent on the technology ReDigi wants to use to enable the resale of digital media. It says the patent covers the transfer of digital media files without making a copy. ReDigi has been in the news a great deal in the last couple of years. The RIAA complained, and record label EMI sued, over ReDigi's plan to allow...
The filing doesn't seem to be on PACER yet, and I haven't been able to find any other link to the filing, but in keeping with the declared deadline of close of business Friday, the Department of Justice has filed its opposition to Apple getting a temporary stay of the anti-trust monitor. CNET and the Wall Street Journal have the coverage and some quotes from the filing. CNET: "In any event, the district court did not exceed its authority in ordering an external monitor for Apple or abuse its discretion in declining to disqualify the...
A recent and widely quoted report from the Wall Street Journal makes a couple of interesting calls about Apple iPhone developments supposedly in the works, quoting the customary "people familiar with the situation." (Those people sure get familiar with a lot of situations.) And according to the report, "facing competition from rivals offering smartphones with bigger screens, Apple Inc. ... is planning larger displays on a pair of iPhones due for release this year." WSJ doesn't spare much effort in ramming home the message. " Apple is losing market share to rivals who offer bigger screens," it insists, and wheels out...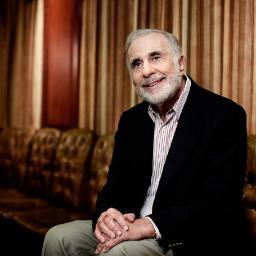 Activist investor Carl Icahn has put Apple fairly in his sights with a tweet and subsequent interviews that confirmed he has taken up a large position in the Cupertino giant's stock - in the expectation of pushing it into escalating its share buyback program, which would deliver a handsome return to shareholders. "Having purchased $500 million more $AAPL shares in the last two weeks, our investment has crossed the $3 billion mark yesterday," he tweeted, following this with: "We feel $APPL board is doing great disservice to shareholders by not having markedly increased its buyback. In-depth letter to follow soon." As quoted...