Advertising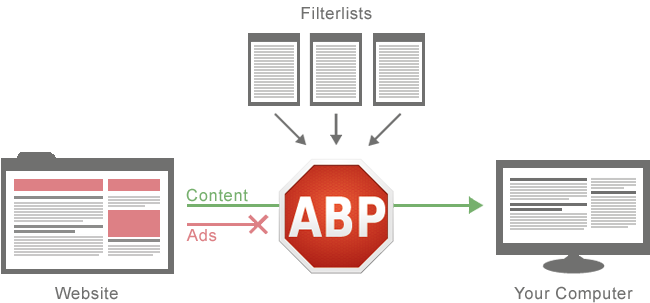 A case in France being contemplated by Le Geste, the professional organization of online publishers, and IAB France, which dictates the standards for online advertising in France, against AdBlock Plus, the internet ad blocking software, and its parent Eyeo GmbH. As reported in Les Echos, the case is on the basis that AdBlock Plus threatens their business - and that Eyeo is effectively extorting money from them by offering partnerships that circumvent AdBlock. Actually, it appears that criticism of Eyeo is fully justified - and doubtless it doesn't hurt in France that the culprit is German - but that does little...
Over the last few years, a number of minor scandals have come to light concerning wiki editors who were paid by publicity firms to edit articles in Wikipedia. Now, the Wall Street Journal reports, the Wikimedia Foundation has changed the encyclopedia's terms of use to require that anyone paid to edit an article must disclose that arrangement. This comes only a week after a coalition of major PR firms announced a pledge not to edit their clients' Wikipedia pages surreptitiously. This is a good move by Wikipedia; the only thing that surprises me is that it had gone...
Here's an article from Science Daily that posits that all the claims that the Internet (or, more specifically, Internet advertising) is responsible for newspapers' downfall are false…but then it doesn't propose any alternative reasons to replace it. The article cites a research paper by University of Chicago Booth School of Business Professor Matthew Gentzkow, published in the American Economic Review. Gentzkow looks at the differences in rates and views between on-line and newspaper ads. The perception that the Internet is responsible for newspapers' downfall, Gentzkow posits, is based on the idea that on-line ad revenues are lower than print...
I can't say I ever expected I'd run into independent publishing marketing in the wild, but there I was this afternoon, coming down from the Soldiers and Sailors Monument viewing tower in Monument Circle in the heart of downtown Indianapolis when I noticed a colorfully-vinyl-wrapped van pull onto the circle and drive around a few times. It had a logo on it saying "Elfhunter." I had my cell phone on me, so I snapped some pictures, and I posted one with a tweet saying as how if I were hunting elves, I probably wouldn't let them know I...
Ad-blocking browser plug-in Adblock Plus has released its criteria for "Acceptable Ads." Though the blog post in which they announce them doesn't say so, presumably an "Acceptable Ad" is one that Adblock Plus wouldn't actually block (though the blog post, it should be noted, does not actually mention anything about a willingness on Adblock Plus's part not to block such ads—which might just be because of one teensy problem with their definitions, which I cover below). These magical criteria are as follow: Acceptable Ads are not annoying. Acceptable Ads do not...
Maybe it's not so impossible to get people to watch ads on the Internet after all. Last night, curious to see if Joss Whedon's recent adaptation of Much Ado About Nothing was available for streaming anywhere, I checked CanIStreamIt and found the only place it was listed for free was ad-supported with "HitBliss." Curious, I clicked through and found a service that essentially pays you—or, rather, lets advertisers pay you—for watching ads. (Then, after I finished writing this article, I noticed Juli covered it here, too, when it first launched in March of last year.) The way it...
On Digiday, John McDermott calls attention to the impending "DVR problem" online content faces, in light of all the content-reformatting apps such as Readability that can automatically save web articles and cull advertising before consumers even have a chance to see it—just like DVRs allow consumers to skip over commercials in their shows. This has been an ongoing issue as long as the web has had ads. Ad blockers (both software and hardware) have made the web more reader-friendly for years (I use one myself), much as some content site owners rail against them. But what can...
I use a handy little extension called AdBlock in my Google Chrome browser. I will disable it for certain sites if I feel they merit it (or, grudgingly, if they disable important functions of the sites if ads are blocked) but on the whole I'm happy not to see flashing, animated, distracting advertisements when I'm trying to browse the web. And I'm happy that my pages load faster without them. Apparently a lot of other people use it, too—3 out of every 10 web users, in fact. But that's apparently not satisfying enough for AdBlock's developers. They've launched...
Last month I wrote about eBookPlus, a startup that wanted to make books free, with ads. To say I wasn't thrilled would be an understatement. Most of you who commented on the post agreed with me. Forbes had an article today on another startup, HitBliss, that might actually have it right. From Forbes: The Lexington, Mass. company, run by husband and wife team Andrew Prihodko and Sharon Peyer, operates a Netflix-like app for iOS and Android that gives users access to a whole slew of TV shows and movies. But all that's a sideshow; the payment method is what's interesting here. Customers can...
I just saw this press release from EbookPlus, which wants to make books legally free. Sounds good, right? But wait, there's more. That's free, with advertising. eBookPlus.com offers any company the opportunity to create publicity to place in an eBook, whether it is a video, an image or a HTML page. The advertising is unobtrusive, placed only at the beginning of each chapter, volume or part of a particular title. This advertising is presented to readers for a few seconds, after which they can read the eBook normally without interruption during the whole of the chapter. Payment is only debited to...
The Internet has a love-hate relationship with advertising. Many users of the web consider web ads obnoxious. Many publishers of content on the web consider them vital. And as a result, there's been an arms race between ad purveyors and ad blockers for as long as ads have been around, despite content publishers' insistence that the lost revenue could cripple them. The latest shot fired in the war is a Kickstarter project for a device called AdTrap, Intended to retail for $150, available for $120 to early kickers, the AdTrap is a little open-source box with two Ethernet ports...
Earlier this month I mentioned a blog post by self-publishing writer Penelope Trunk on how clueless she found her traditional publisher when it came to marketing her work on-line. The blog post was later carried by The Guardian in edited form. Since then, John Self has written on the Guardian's Book blog about the (largely unsympathetic) comments posted in reaction to it, and whether it was possible to promote a book effectively on-line. To experiment with how effective on-line promotion could be, Self seized onto an about-to-be-published book he quite liked, Hawthorn & Child by Keith Ridgway, and decided...