More on TechnologyTell: Gadget News | Apple News
Other posts by Paul St John Mackintosh
Lynda E. Rucker's first collection The Moon Will Look Strange, from the tiny outfit of Karoshi Books, is the kind of title that makes Big Publishing look irrelevant. I mean, if the results can be this good, and achieve this relatively high level of recognition, why even bother to look elsewhere? Overreaction maybe, but I hope you get my point. Because this is a Very Good Book. Indeed. Of the eleven tales in it, three - "The Burned House", "In Death's Other Kingdom", and "These Foolish Things" - are first-time appearances. That actually comprises a large portion of her published work to...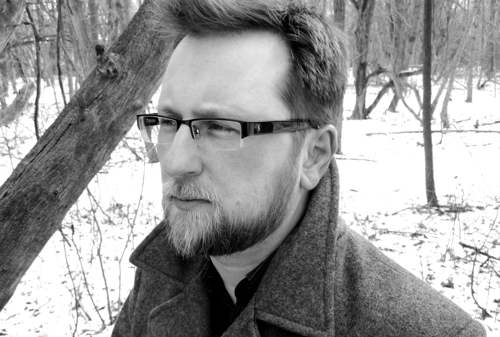 Acclaimed dark and weird fiction author Simon Strantzas is releasing his fourth collection of short stories, Burnt Black Suns, from Hippocampus Press. I spoke to him about the genre he works in and how he operates as a writer. TeleRead: Do you think that horror/weird fiction reflects or channels any current social/cultural concerns or shifts, as well as more perennial human preoccupations and anxieties? If so, what might the current resurgence in weird fiction be tapping into? Strantzas: I do, but I also feel that the full extent of this isn't all that clear as it's happening—it's only clear in hindsight. There are...
Tartarus Press should need no introduction by now, given the number of times they've now appeared on Tele Read as purveyors of fine independent fiction. Their blurb describes their recent production, Mercy and Other Stories by Rebecca Lloyd, as "tales of unease with a sprinkling of the ghostly, menacing and fantastical. The stories inhabit the fragile space between fantasy and reality, where the landscape is in constant flux and things are not quite as they seem." Rebecca Lloyd, born in New Zealand but now based in Bristol, began writing while working in Africa as a medical parasitologist and has already published one novel, Halfling,...
With the UK just a few miles away from la belle patrie in places, you'd think that second language acquisition would be a matter of course. A whole second literature, with the heritage of Proust and Baudelaire and a host of other luminaries, let alone the great wine and cuisine, right there on your doorstep, just waiting for you. Should be a no-brainer, right? Well, according to one highly disgruntled language teacher in England writing on Cafe Babel, it's more a matter of no brains. As much among those setting the curricula and overseeing language learning as among the students. And...
I never thought of stupidity as particularly macho. But then, maybe I've lived outside the UK for too long. Because apparently a lot of British men fit that mold. And I'm rather ashamed to link my own gender to this, but the statistics seem to speak for themselves. Or should I have softened it a bit? Saying, well, if you're male and British there is a greater tendency towards not taking a serious interest in books, rather than making such an emphatic statement? And let British society off the hook? And sidestep that disgraceful conclusion? Because here we have some hard...
Ellen Datlow is a significant presence in American and international horror and dark fiction. That's about as bathetic an understatement as they come. Any new anthology owned by her is guaranteed its share of interest. Her "Also Edited" list at the start of this collection is vast. And her new volume Lovecraft's Monsters, from Tachyon Publications, finds a new theme in the creatures and creations of H.P. Lovecraft, which have inspired everything from brilliant pastiches to plush toys. (Oh, and she gave an Honorable Mention to one of my pastiches, and why ever miss an opportunity for gratuitous self-promotion? ;) ) For...
You'd think that birthing American horror's favorite son would give a U.S. state a broad institutional commitment to supporting the horror genre and honoring its local exponents. Well, apparently not. Because a library in Maine has declined the bequest of the archive of local horror writer Rick Hautala, citing lack of resources to properly support and maintain it. As reported in the Portland Press Herald, Stephen King's home town journal, Hautala's widow is upset that his gift of his archive has been turned down by the Walker Memorial Library in Westbrook, Maine. "Holly Newstein-Hautala offered Rick's archives—manuscripts, letters, etc.—to the Walker Memorial...
The internet has been alive with tributes to Gabriel García Márquez (1927-2014), the Colombian Nobel Prize-winning master of magic realism who has just died in Mexico aged 87. The 1982 Nobel Prize for Literature citation cited him as "a rare storyteller, richly endowed with a material from imagination and experience which seems inexhaustible ... who combines the copious, almost overwhelming narrative talent with the mastery of the conscious, disciplined and widely read artist of language." Magic realism, with its imaginative heightening of experience through the fusion of history and fantasy, erudition and caprice, surrealism and reportage, is often credited to Jorge...
iPads and tablets now appear set to join ebooks, the Internet, television, bicycles, and other agents of moral decay as hate figures in the latest press-stoked moral panic in the UK. As reported in the UK Daily Telegraph, the Association of Teachers and Lecturers has issued research claiming that tablet addiction has left a generation of manually challenged British children. The Daily Telegraph cites an ATL conference speaker who warns of "increasing numbers of young pupils who can swipe a screen but have little or no manipulative skills to play with building blocks or the like." The ATL will also apparently...
Helen Goodman, UK Shadow Minister for Culture, Media and Sport, has joined Minnie Driver and others in the campaign in Lincolnshire against closure of two thirds of the county's libraries. As reported in the Lincolnshire Echo, she condemned the plans of Conservative-led Lincolnshire County Council as "disgraceful." Dressed in Lincoln green, or something like, Helen Goodman reportedly declared that "Local libraries are central to our societies, offering a safe place for all ... They are investments in our future through the communities they nurture and skills they foster." A full video of her appearance is available here. Helen Goodman came at the...
Legal developments around the Apple ebook price fixing debacle are not exactly going Cupertino's way. Most recently, U.S. District Judge Denise Cote, to no one's great surprise, returned a negative response to Apple's motion to dismiss the damage claims brought by 33 states of the Union in their previous parallel case alongside the U.S. Justice Department. According to Reuters, the damage claims from U.S. states could amount to some $840 million. "Apple now moves to dismiss the antitrust action filed by the States. Apple contends that the States lack standing to assert their claims against Apple or, at the very least,...
Charon Coin Press, an independent publisher of speculative fiction, has acquired several series of horror and dark fiction anthology properties previously held by Rymfire Books under Armand Rosamilia. These include the series State of Horror, Heavy Metal Horror, Post-Apocalyptic Raid, I, Executioner, Revenant 1 & 2, and Vermin. These, and will apparently be followed by others as the basis for the anthologies division of Charon Coin Press. Charon Coin Press founder Jerry Benns was apparently editor for the State of Horror anthologies since January 2014, and the acquisitions were part of a transition from editor to full-blown publisher. "I didn't start out...