More on TechnologyTell: Gadget News | Apple News
Other posts by Paul St John Mackintosh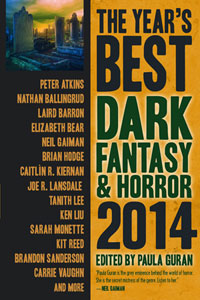 The latest in the excellent Year's Best Dark Fantasy and Horror series, edited by Paula Guran, does a pretty good job of living up to exaclty what it says on the cover, and pulling together the year's real best achievements in the genre/genres. Some of the 32 tales will be familiar from elsewhere, especially to an avid dark sider like me, as many have already been anthologized or otherwise put out in book form. That doesn't change the fact that if you want to get a very broad and compendious perspective on the field - at 576 pages and 32 stories...
Anyone not living under the same rock that many of its adherents crawled out from under will surely know by now about GamerGate, the supposed activist movement to defend traditional computer gaming standards and values, which has mushroomed into an umbrella grouping for all kinds of self-righteous victimhood, hate speech, intimidation, trolling, and even death threats. The whole thing started around a woman journalist, but writers have by and large been out of the front line on this story - until now. For one thing, Theodore Beale AKA Vox Day, a fairly notorious right-wing science fiction author, apparently thought he could use...
The American Library Association (ALA) has issued a positive response to the recent decision by the U.S. Court of Appeals for the 11th Circuit handed in Cambridge University Press et al. v. Carl V. Patton et al., a case previously covered by Chris Meadows here. This is the latest round of proceedings following the suit bought by the Cambridge and Oxford University Presses, and SAGE Publishers against Georgia State University for copyright infringement in 2008. Courtney Young, president of the ALA, said: "The appellate court's decision emphasizes what ALA and other library associations have always supported—thoughtful analysis of fair use and a rejection...
As a Scot, I can sometimes feel envious of our amazing Celtic neighbor and its outsize contribution to modern literature. Even if so much of that record was because, as W.H. Auden wrote of Yeats, "mad Ireland hurt him into poetry," Ireland did at least end up with poetry along with its madness - and much more. This extensively researched infographic comes courtesy of Irish schools specialist book chain BuyBooks.ie, put together by the UK's NeoMam Studios. And even if it originated on the wrong side of the Irish Sea, who could shut their eyes to the pride of Erin ... ...
Author entitlement is a wonderful thing. Just by putting pen to paper, you can be forgiven for child abuse. Stalking. Abusing your readers. Grumpy-catting when you can't get the recognition and validation you paid for. Especially in your own mind. Apparently it's all part of that miraculous creative process. So welcome Margo Howard as today's star turn in authorial over-self-entitlement. (Is that a word? Sorry, English language, but it sure is an accurate description.) Aided and abetted, as these cases so often are, by a paranoid conspiracy theory - which is given added credence and visibility, in this instance, because it...
An interesting product came up on my radar yesterday. And I'm not one to diss genuine creativity and inventiveness gratuitously, but I do wonder. The Hemingwrite, you see, is designed as "A Distraction Free Writing Tool," offering the functionality of an old-style word processor, the ergonomics of a typewriter, and the freedom from distractions of a hermit's cave. And designed for decades of use. The Hemingwrite's features include a mechanical keyboard, an e-ink display with backlight, and Evernote cloud backup - for despite its retro styling, the Hemingwrite is a connected beast. What it is not, however, is connected to the...
The Welsh capital received an horrific visitation last weekend in the shape of Scardiff, " the first Cardiff horror expo," and a celebration of "all things horror: books, comics, movies, cosplay, the works." And according to attendees, Cardiff Masonic Hall was overrun by a zombie-like horde of attendees, foaming with rabid enthusiasm for the events and attractions. The program at Scardiff included "horror-themed cosplay comps with prizes and custom-made trophies," an SFX scareoff, tabletop gaming, a low-budget filmmaking workshop, and - last but not least for budding horror writers - "a live pitching session for budding novelists, led by Scott Harrison...
Plagiarism or not, second-hand reporting or not, I can't do better than to simply repeat and link to the above headline. Here's The Guardian, defender of free speech and woolly thinking, running in full the ruminations of author Kathleen Hale on how she tracked down the perpetrator of a one-star review of her book - to her real-world address, in person, face to face. Admittedly, The Guardian doesn't take sides, simply giving the author's account, without implied endorsement even in the subtitle. But commentators on the story soon did, both for and against. A good many who weighed in on Kathleen Hale's side...
After reading Michael Kelly's posts about the organizational work needed to reward the contributors to the crowdfunding campaign behind the critically acclaimed anthology Year's Best Weird Fiction Vol. 1, I contacted him for his comments on his work as series editor and on the complications of crowdfunding an anthology in the ebook era. Here are his replies. TeleRead: Are physical books still an important reward for crowdfunding campaigns? What does this say about the enduring status of print? Michael Kelly: The majority of people prefer a physical book, to be sure. But that gap is closing. Two-thirds of the contributor's to the Year's Best Weird...
When not engaged in dissing Amazon, endowing lucky bookshops, or otherwise positioning himself front and center before an attentive media, bestselling $350 million-net-worth $90-million-a-year-earning author James Patterson is indulging in business practices that make me wonder whether there is a case for a class action against him. On grounds of consumer fraud. Because, as the Celebrity Net Worth website (the Hello! Magazine of money junkies) outlines, "Patterson works with a variety of ghostwriters and co-authors, such as Maxine Paetro, Andrew Gross, Mark Sullivan, Ashwin Sanghi, Michael Ledwidge, and Peter De Jonge." When you're reading James Patterson, how do you actually know...
I have to confess that even as a supposed savant of self-publishing, I hadn't heard of Barbara Freethy, though she "is the author of 40 novels ranging from contemporary romance to romantic suspense and women's fiction," and "was recently named Amazon KDP's bestselling author of all time by Amazon," according to the original press release. However, it appears that Ingram Publishing Services rate her achievement as a self-published author so highly that they now are willing to showcase her as an instance of what may be a new phenomenon: The celebrity self-published author/service provider signing. "Ingram Content Group Inc. today announced...
A just-published research study from Mintel, the London-headquartered consumer market research organization, demonstrates that ebooks are driving up reading levels in the UK. "One in four (26%) consumers who have bought an e-book in the past year say that they read more than they used to because e-books cost less than paperbacks, rising to as many as four in ten (38%) 16-24 year old-book owners," states the Mintel preamble. Cost seems to be one of the key grounds, as "over a third (36%) of UK book buyers buy both e-books and print books and 42% of these say that they...