More on TechnologyTell: Gadget News | Apple News
Other posts by Paul St John Mackintosh
The notorious policy introduced by UK Lord Chancellor and Justice Secretary of restricting access to books for prisoners in England has been withdrawn after December's court decision that it was unlawful - despite the insistence by its instigator that there never was such a policy in the first place. But not before Grayling's department spent £72,000 trying to defend it, a recent report revealed. Frances Crook, CEO of the Howard League for Penal Reform, which co-led the Books for Prisoners campaign against the ban, described this to the UK Independent as: "a scandalous waste of public money." At the time of the original...
News has emerged of several tablet manufacturers targeting the mega-device space, with HP announcing an Android Pro Slate design with a 12.3-inch screen. According to the original HP announcement, the HP Pro Slate 12 and its little brother the HP Pro Slate 8 are: high-definition (HD) commercial-grade Android tablets. Available in 8-inch or 12-inch diagonal displays respectively, the tablets are powered by a Qualcomm® Snapdragon™ 800 series processor, and support a 4:3 aspect ratio to easily view business documents and access business applications. Less than 8 mm thin, these lightweight tablets offer powerful computing and business-day battery life with enterprise-grade security and...
The recent HP announcement of the debut of its HP Pro Slate Android tablets included the detail that they would come bundled with the HP Duet Pen, "the first to use Qualcomm Snapdragon digital pen technology on both a tablet and regular paper." For a stylus buff like me, any news about new digital pen technologies is interesting, and this Qualcomm innovation looks to be one of the more striking wheezes to break cover lately. According to Qualcomm's technology partner on the new device, GlobalLogici, the Qualcomm Snapdragon Digital Pen "represents the next generation of the stylus popular with tablet devices. With the size...
Sad to say, Egmont Publishing has had to close its US business after trying but failing to find a buyer. The official Egmont statement said: Egmont Publishing, which at $900 million is the largest division in the Denmark-based Egmont group, employing 2,400 people across 30 countries, has a new strategic focus, which is to invest in books and magazine businesses where Egmont can hold a leading market position. One of the outcomes has been the decision to exit the standalone position in the US market, which they entered in 2008. Attempts to sell Egmont USA since October 2014 have not resulted in...
Mike Davis, founder and editor of the highly regarded Lovecraftian free online magazine Lovecraft eZine, and its various associated properties, spoke to me about his new small press venture, Lovecraft eZine Press, and overall conditions in the current cosmic/Lovecraftian horror cosmos. Teleread: How do you see Lovecraft eZine Press fitting alongside the many other fine small and independent presses in the dark fiction and horror areas? Mike Davis: I'm not a competitive person by nature, so I see the new Lovecraft eZine Press as complimentary to them. Small press is a tough gig. It's hard to make money at it, and I know...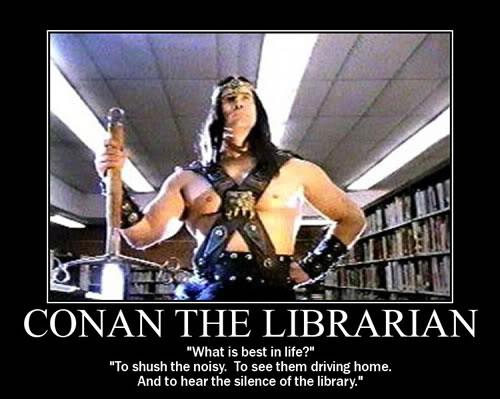 In honor of Robert E. Howard's birthday, here's a little demonstration and an attempt at a quantification of what his legacy as a popular/pulp/genre/trash writer means. And an object lesson in how many people you can reach, how many dreams you can touch - and how much wealth creation you can enable - by sipping at the poison chalice of popularity. Let's take two writers born roughly the same time, one "popular," one "serious," and their most successful single property. I'm going to focus on one Howard creation only: Conan. (Never mind the Solomon Kane movie and other offshoots.) And in...
The American Library Association has listed 3D printing among the agenda topics at the 2015 ALA Midwinter Meeting, to be held at the McCormick Convention Center in the ALA home base of Chicago, on January 3oth-February 3rd. Other topics include ebook policy, library funding options, national library public policy, and the  implica­tions of the November mid-term Congressional elections for American libraries. The 3D printing session of the Midwinter meeting, "Library 3D Printing—Unlocking the Opportunities, Understanding the Challenges," will cover the technological developments in 3D printing which "are empowering people to learn new skills, launch business ventures and solve complex health problems," and deal with the question:...
Not quite your everyday run-of-the-mill zombie apocalypse, you could say. Yes, it's another rigid, stiff, slow-moving essay in that genre, shambling and groaning its way into your to-read pile. And what a surprise that this sub-genre has grown so fast, proliferating like - well, a zombie plague. Okay, enough of the cheap demi-humor. And no, I didn't really mean any of those crude, brainless, groaning cracks. Nick Mamatas has written - sometimes brilliantly - in many other branches of horror and dark fiction, and this is his stab - or baseball bat bash, or scattergun blast, or drillbit whirl - at...
The University of California Press has just announced a pair of initiatives that mark its major institutional push into scholarly open access, "Collabra and Luminos, two new open access programs for journal and monograph publishing." UC Press, which provides the academic publishing infrastructure for the University of California university system, including UC Berkeley and UCLA, and which claims to be "the world's greatest public research university," declares that: "Collabra and Luminos launch with a distinguished group of advisory board members, editors, authors, and reviewers from universities and associations around the globe." The announcement continues: The mega journal Collabra is based on an innovative model...
The European and International Booksellers Federation (EIBF), the "non-commercial European and International umbrella association representing national Booksellers' Associations and booksellers over the world," has just launched the My Next Read (#mynextread) campaign, inviting readers to "Inspire Europe. Share #mynextread." The campaign urges them to "Snap yourself with the cover of your next read, don't be shy," then "Share: Post it to your Instagram, Twitter or Facebook profile tagged as #mynextread." And finally, "Inspire: You're now inspiring fellow readers across Europe at mynextread.eu." The campaign is yoked together on the My Next Read website with the EIBF's Book Charter, which also urges...
A recent post in the New York Times fingered the Stateside obsession with the Great American Novel, that white elephant that has crushed many literary aspirations and engendered all kinds of weird mutants that sprawl around the landscape. Indeed, there have been whole books written about the Great American Novel, as well as novels titled, modestly, The Great American Novel. In the NYT, however, Cheryl Strayed concluded that "the idea that only one person can produce a novel that speaks truth about the disparate American whole is pure hogwash." And Adam Kirsch declares that "The GAN, to use the acronym...
Genre-spanning "pulp fiction" author Robert Ervin Howard was born this day, January 22nd, in 1906 in Peaster, Texas, moving in his adolescence to Cross Plains, where he lived until his suicide on June 11th, 1936, following his mother's death. In those 30 years, he produced an immense amount of pulp fiction, practically defined at least one genre - sword and sorcery - and contributed masterpieces to several others. The Robert E. Howard legend is now imposing enough to rival even his hero Conan, and has spawned numerous books and at least one film in its own right, multiple-award-winning The Whole...