More on TechnologyTell: Gadget News | Apple News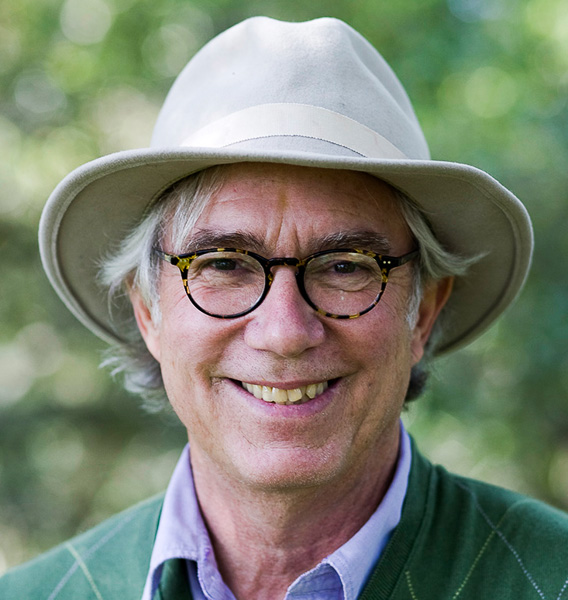 Damien Walter, writing in The Guardian, has resurrected Rudy Rucker's 1983 essay "The Transrealist Manifesto" to tag transrealism as "the first major literary movement of the 21st century?" As the question mark suggests, though, here's only one problem: Is it so? Rudy Rucker's original essay defines transrealism as "not so much a type of SF as it is a type of avant-garde literature," and, incidentally, "the only valid approach to literature at this point in history." According to Rucker, "the Transrealist writes about immediate perceptions in a fantastic way," because "the genre of straight realism is all burnt out. Who needs more straight...
One of the most evocative and universal creations of Norse mythology is Yggdrasil, the World-Tree, literally the axle-tree of creation, its roots, trunk, and branches uniting the nine worlds. This great ash tree is also central to the development of language, especially writing, with Odin, ruler of the gods, sacrificing himself to himself on the tree to acquire the runes. And fittingly, Finnish-Swedish webcomic artist Minna Sundberg has created this superb representation of the roots of European languages as - again literally - a tree diagram. Sundberg herself began on one of the smaller branches of this tree, the isolated sprout of Uralic...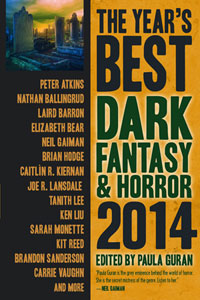 The latest in the excellent Year's Best Dark Fantasy and Horror series, edited by Paula Guran, does a pretty good job of living up to exaclty what it says on the cover, and pulling together the year's real best achievements in the genre/genres. Some of the 32 tales will be familiar from elsewhere, especially to an avid dark sider like me, as many have already been anthologized or otherwise put out in book form. That doesn't change the fact that if you want to get a very broad and compendious perspective on the field - at 576 pages and 32 stories...
Anyone not living under the same rock that many of its adherents crawled out from under will surely know by now about GamerGate, the supposed activist movement to defend traditional computer gaming standards and values, which has mushroomed into an umbrella grouping for all kinds of self-righteous victimhood, hate speech, intimidation, trolling, and even death threats. The whole thing started around a woman journalist, but writers have by and large been out of the front line on this story - until now. For one thing, Theodore Beale AKA Vox Day, a fairly notorious right-wing science fiction author, apparently thought he could use...
Responding to DVD Subscription Decline, Netflix Closes Call Centre (GigaOM) Remember those red envelopes? Fewer and fewer people use Netflix to get DVDs, which is why the company is now closing a call center in Oregon. *** Kobo Releases Massive Update to Current Generation of eReaders (GoodeReader) It includes a bevy of enhancements, such as the ability to turn off the X-Ray inspired Beyond the Book. *** More Advice to Authors United (JA Konrath) I know it has only been three days, but why hasn't Authors United announced its next move? I'm just one man, and I can compose and post a blog response within a few...
The American Library Association (ALA) has issued a positive response to the recent decision by the U.S. Court of Appeals for the 11th Circuit handed in Cambridge University Press et al. v. Carl V. Patton et al., a case previously covered by Chris Meadows here. This is the latest round of proceedings following the suit bought by the Cambridge and Oxford University Presses, and SAGE Publishers against Georgia State University for copyright infringement in 2008. Courtney Young, president of the ALA, said: "The appellate court's decision emphasizes what ALA and other library associations have always supported—thoughtful analysis of fair use and a rejection...
I'm sure everyone has heard the news by now about yesterday's events in my nation's capital. We have a young relative in Ottawa who we visit there several times a year, and we have been to all those places; we were relieved to speak to him last night to find everything going well. The teachers were in 'safe' mode but not actual lockdown, so although the school doors were locked and the windows closed and curtained, they were able to run a regular school day and he had no clue anything was going on. We of course had been following the...
Ellora's Cave vs Dear Author Suit Removed to Federal Court (The Passive Voice) Dear Author has just removed the case from the Ohio state court where it was originally filed to the relevant U.S. District Court in Ohio claiming diversity jurisdiction is present in the case. *** How Piracy Benefits Companies, Even if They Don't Admit it (Lifehacker) We've talked a lot about the legality of piracy a lot here at Lifehacker, but really, you're probably breaking the law everyday anyway. However, piracy can sometimes have its benefits. Even to the companies who own the copyrights. *** Ten Things I've Learned About Life from Blogging (Design...
The fun part about going to writer's conference is that you meet lots of writers and get opportunities for review copies, especially if you let folks know you review books. KM Rockwood is a delightful person, and I was happy to accept a review copy of her latest book, [easyazon-link asin="B00K2L77XU" locale="us"]Brothers in Crime[/easyazon-link]. When she asked me if I wanted the first in the series or a later book, I opted for the latest book, to see if book would stand alone as well as she said it would. The good news is that it does. However, this is an odd...
Since I first posted about my new art habit, I have been bitten by the art bug, hard, and have been trolling the Pinterest world for inspiration. I found a neat thing---a whole sub-culture of bloggers who are creating their analog journals off-line using paper and paint and pen, and then posting the results digitally. That is a fascinating snapshot, to me, of what the internet world is going to look like more and more, as it is maturing. People value the internet for information, for ideas, for sharing. But they increasingly will be craving the offline stuff too. The Beloved...
As a Scot, I can sometimes feel envious of our amazing Celtic neighbor and its outsize contribution to modern literature. Even if so much of that record was because, as W.H. Auden wrote of Yeats, "mad Ireland hurt him into poetry," Ireland did at least end up with poetry along with its madness - and much more. This extensively researched infographic comes courtesy of Irish schools specialist book chain BuyBooks.ie, put together by the UK's NeoMam Studios. And even if it originated on the wrong side of the Irish Sea, who could shut their eyes to the pride of Erin ... ...
What's Next for Authors United? (David Gaughran) Perhaps it's time for Douglas Preston to widen the aims of the group and start campaigning on issues which actually matter. *** Make the Switch from iOS to Android with Google's New Guide (Lifehacker) If you're not excited about the new features in iOS 8, you might consider switching to Android. Thankfully, Google just released a guide to help make the switch easier. *** How Soon Will the Majority of Books be Self-Published? (Publishing Perspectives) Literary agent Andrew Lownie believes that in 5-10 years, 75% of books will be self-published, 20% assisted by agents, and only 5% traditionally published. *** Margaret Atwood...