More on TechnologyTell: Gadget News | Apple News
The New York Times has just shared a wonderful infographic on the great writers and works of Russian literature - "Unhappy in Their Own Ways." And for anyone looking to reinforce their preconception that Russian literature is all some great Love and Death-style landscape of melancholy and disaster, here's the evidence laid out in strikingly graphic form. For such a serious - yea, gloomy - topic, it's surprisingly fun, but there is an all-too-serious dimension to this. As Masha Gessen revealed in a sobering recent article in The New York Review of Books, "The Dying Russians," Russia is in the grip...
The latest quarterly forecast of global PC demand, the International Data Corporation (IDC)Worldwide Quarterly PC Tracker. has shown a slight reduction in market shrinkage, down to -2.7 percent contraction in 2014, following the previous forecast of -3.7 percent. However, IDC reports market consensus that this is a short-term uptick "rather than as a sign of stronger growth in the medium- or long-term." Despite the apparent leveling off of tablet market penetration, IDC reports that "competition for disposable income from smartphones and phablets is rising. In addition, the market was boosted in the third quarter by factors such as a rise in low-cost...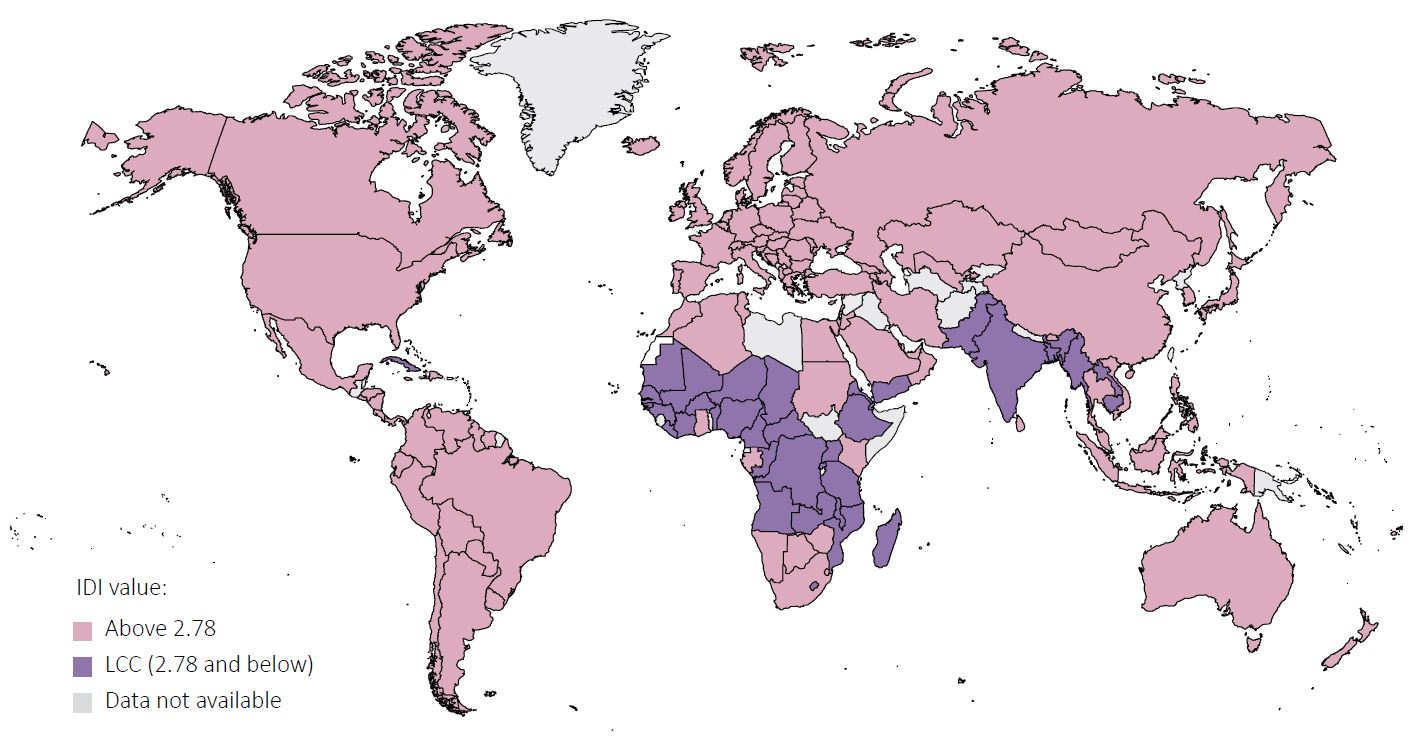 A timely report. the annual Measuring the Information Society Report, from the International Telecommunication Union (ITU), the United Nations agency responsible for information and comms technologies, comes as a fresh reminder of how far the information economy still has to spread. According to the ITU, although "Internet use continues to grow steadily, at 6.6% globally in 2014 (3.3% in developed countries, 8.7% in the developing world)," the global digital divide remains immense. "Of the 4.3 billion people not yet using the Internet, 90% live in developing countries. In the world's 42 Least Connected Countries (LCCs), which are home to 2.5 billion...
Following the recent news of the resurfacing of the near-legendary "Joan Anderson Letter" from Neal Cassady to Jack Kerouac, which gave us On The Road in its current form, Profiles in History, the auction house selling the letter, is hosting a media event on the morning of December 1st at "The Heart of The Beat Generation's History in North Beach, The Beat Museum," showcasing the letter "This One and Only Time, to Select Media in its Newly Discovered Entirety." The Beat Museum, which rejoices in the URL www.kerouac.com, "is home to an extensive collection of Beat memorabilia, including original manuscripts and first...
Probably many of you will have noticed these bibliophilic graphics in passing, without realizing that they all came from the same source. So now it's time to pay due tribute to Tom Gauld, who has produced some of the most fun, insightful, and reverential short book-related strips, magazine cover illustrations, and other graphic art around. He lives and works out of London, but features on the cover of The New Yorker and elsewhere worldwide - plus of course, on the internet and social media, where he's almost become a meme creator of choice. As well as the hilarious Formats of the...
A rare first folio edition of the plays of William Shakespeare has been rediscovered in the Library of Saint-Omer in France. Described in the local newspaper that first broke the news as "an incredible discovery," and "one of the two most celebrated books in the world," the first folio of Mr. William Shakespeares Comedies, Histories, & Tragedies, one of just 228 still known to be in existence, went uncatalogued in the intervening centuries apparently because its title pages and opening material were missing, but the full complement of 36 of Shakespeare's plays are apparently all present. Rediscovered in the autumn...
What's not to like about Black Friday shopping online? No crowding and no hunting for a parking place. Happy deal hunting! Amazon.com Black Friday Deal: Use code Holiday30 for 30% off any print book *** Barnes & Noble: 50% Off Selected Titles, Nook Deals *** Kobo: Save $40 on Kobo Aura *** Apple: Get a Gift Card with Selected Products *** Kindle Daily Deal: Must-Read Fiction and Non-Fiction _______ Anything strike your fancy?...
Amazon has just expanded its distribution and delivery network in the UK by partnering with the Royal Mail to deliver Amazon packages to British post offices - an arrangement that observers say could help to support the ailing UK postal service, already under attack from private sector competitors in the parcels and door-to-door delivery space. The UK post office network, spun off from the delivery network in April 2012 as Post Office Ltd., gives Amazon around 10,500 new points of presence across the country, "taking the total number of Amazon pickup points across the UK to more than 16,000," according...
The University of East Anglia and the Writers' Centre Norwich have just announced the launch of "Online and Face-to-Face Creative Writing Courses," commencing in 2015. "This is your chance to benefit from the UEA's world renowned expertise and give your creative writing a real chance to progress," the introduction states, and the online offering includes a "specially developed online learning environment using course materials designed by your tutor," as well as bespoke criticism and individual feedback. "This partnership between UEA and Writers' Centre Norwich gives you the opportunity to work either online or face-to-face in 10, 12 or 24 week courses...
The Books on Tyne Literary Festival, a.k.a. the Newcastle Book Festival, is convening a literary gathering in Newcastle upon Tyne, one of northern Britain's most unique and characterful cultural communities, for non-Brits out there. Cradle of the legendary Geordie dialect, Tyneside is also the nursery of British literary talents like Basil Bunting and Tom Pickard. "After a successful Festival last year, we have been working hard to produce an even bigger and better programme of events for as many people as possible to enjoy," runs the Festival's introduction. "With a general theme of "On the Edge", we have brought together writers...
Amazon and Barnes & Noble Reveal Black Friday Deals (GoodeReader) Amazon and Barnes and Noble are gearing up for one of the biggest shopping days in the US with some mighty deals. *** Global Net Neutrality Coalition (Boing Boing) The Electronic Frontier Foundation has teamed up with organizations around the world to fight for net neutrality everywhere, because this isn't an issue that just affects Americans. You can help by finding a group in your country and joining in. *** The 12-Book Program: A Holiday Survival Guide (Book Riot) Lucky for us, there are books to advise us, guide us, and help us get away. (Nothing says...
One of my favorite pieces of kit - since its latest upgrade and a network reboot sorted out its wifi connectivity problems at least - is my Chromecast, ideal for streaming music or movies to my big screen while I toil at my desktop. But with my setup at least, there are still some crucial hooks missing that would turn it into a full-on productivity killer, as well as a great entertainment device, and would even make it ideal for widescreen reading as well. Crucially, Chromecast is still held back when working with Android devices. That makes total counter-intuitive non-sense, but...