More on TechnologyTell: Gadget News | Apple News
Oh, what the wonders of technology have wrought! Bright shiny iPads and glistening iPhones, not to mention SnapChat and Twitter. But then,  there are the hackers. The upcoming Golden Globe movie awards and other award shows will certainly be used by presenters and hosts to shine a spotlight on the recent massive international hacking of the Sony Picture Entertainment computer system. But whereas past Golden Globes and Oscars telecasts presented millions of TV viewers worldwide with ribald jokes and trendy selfies, the upcoming awards shows in Hollywood will be watched for the way humor is presented. If nothing else, the Golden Globes and...
On December 28th, 1734, Rob Roy MacGregor, the real-life original of Sir Walter Scott's eponymous hero, died peacefully in his bed at Inverlochlarig Beg, Balquhidder, after a lifetime of reaving and rebellion that won him folk hero status in his own lifetime, and also a royal pardon from King George I which just saved him from transportation out of Scotland. Rob Roy had the distinction of being a Jacobite from the word go, fighting in the 1689 Jacobite rising on behalf of the recently deposed James II Stuart and the "Fifteen" rising in 1715, plus its aftermath in the Battle of...
Any Brit kid who grew up with a love of toy soldiers, model making, war stories, military history, roleplaying games, or wildlife - which probably accounts for most of the now-adult population - will probably have encountered Osprey Books somewhere in their development. These marvelous illustrated folio-style slim volumes with their beautifully detailed paintings of soldiers and materiel of all periods were a staple of my childhood. And now Osprey Publishing, the independent press behind the series, has been snapped up by Bloomsbury Publishing. According to Bloomsbury's announcement: Bloomsbury Publishing Plc ("Bloomsbury") announces that it has today completed the acquisition of the...
Dark Horse Bids Farewell to Star Wars (GoodeReader) In early 2015 the rights to the Star Wars comic book series will be transferred to Disney, and they will publish the comics in-house. *** eReader and Screen Tech Pioneer IRX Goes Bankrupt, is Dissolved (The Digital Reader) As 2014 draws to a close so does the final chapter on Irex Technologies, one of the early ereader makers. *** Hugh Howey's Publishing Predictions for 2015 (GalleyCat) Howey shared his book publishing predictions for 2015 with GalleyCat, revealing that he thinks that 2015 will be a quiet year compared to 2014. *** Discounted eBooks for Readers Who Own Dilbert, Oatmeal and Nom...
This has to be the weirdest book I've read of late, and I say that as a regular reviewer of weird fiction. The Starry Wisdom Library, subtitled "The Catalog of the Greatest Occult Book Auction of All Time," is an elaborate literary forgery that purports to be a lost catalog for an auction in 1877, held by the fictional house of "occult auctioneers" Messrs. Pent & Serenade, and originally titled "Catalogue of the Occult Library of the Recently Disbanded Church of Starry Wisdom of Providence, Rhode Island," concerning the sale of 44 ''lots" from every period from prehistory to the period...
UK printer company Printerinks chose the festive period to share this list of the great banned books of history - so that you can spend your time looking through your presents to see if any of them is on the ban list. You'll find the expected - 1984 and Lady Chatterley's Lover - and the surprising - The Da Vinci Code and Green Eggs and Ham. And if you want some Christmas entertainment, try reading Detroit Public Library's reasons for banning The Wonderful Wizard of Oz. It's a shame that stupidity only rarely seems to be a qualification for a...
It has been the season for tech upgrading in our house! My iPad and Macbook both got replaced, and we got a second Apple TV for the main television. I don't love doing all of this. It is nice to have new things, but I always cringe at spending the money! Thanks to a well-timed sale of my previous iPad and some other tech has-beens, some holiday gift cards and a some teacher discounts, I managed to get the whole kit for under $1000, which is pretty impressive considering the sticker prices. So, here are the first of my reviews: the...
As many of you will remember, after my article "Android latest: Lollipop does not suck" brought reams of comment (67 posts in all) primarily to the effect that in their experience Android 5.0 Lollipop did suck, especially in the context of a mandatory upgrade, we called a poll to systematize the feedback. The results of the SurveyMonkey poll, with 32 responses in since December 6th, and most (some 70 percent) upgrading Nexus 7 devices (2012 or 2013 versions) are as follows. Asked how their experience of Android 5.0 Lollipop had been, almost 20 percent said "Very Good," and a further almost...
I wrote hundreds of posts for Teleread this year; to wrap up my Year  in Review, here are some of my favourites! A few of these got tons of comments and prompted some great discussions. Others slipped under the  radar and may be worth a second look. I hope this gives you some good holiday reading! January My Goodreads Wishlist for 2014 The Lost Art of Letter Writing Why is the Kobo App Still So Annoying? The Health Hazards of Wearable Technology Reading Routines: What's Yours? Love the Work, Hate the Artist February Let's Stop Feeding the Tired Publishing Tropes Should JK Rowling Stop Writing? March Specialty Programming: Good News for TV,...
Wonder why your local public library is underfunded? Overpay of top city officials could be one reason. Here's an example from my hometown, Alexandria, VA. The city manager's $266,508 salary and additional benefits are almost as much as the entire substandard budget for library materials. – D.R Rashad Young, hired at $245K and now paid $266,508 a year, is leaving as Alexandria's city manager to become city administrator for D.C. In my hometown of 150,000, Mr. Young has been pulling down a bigger salary than that of Vice President Joe Biden, paid $230,700. Across the Potomac, he'll make $295K in his...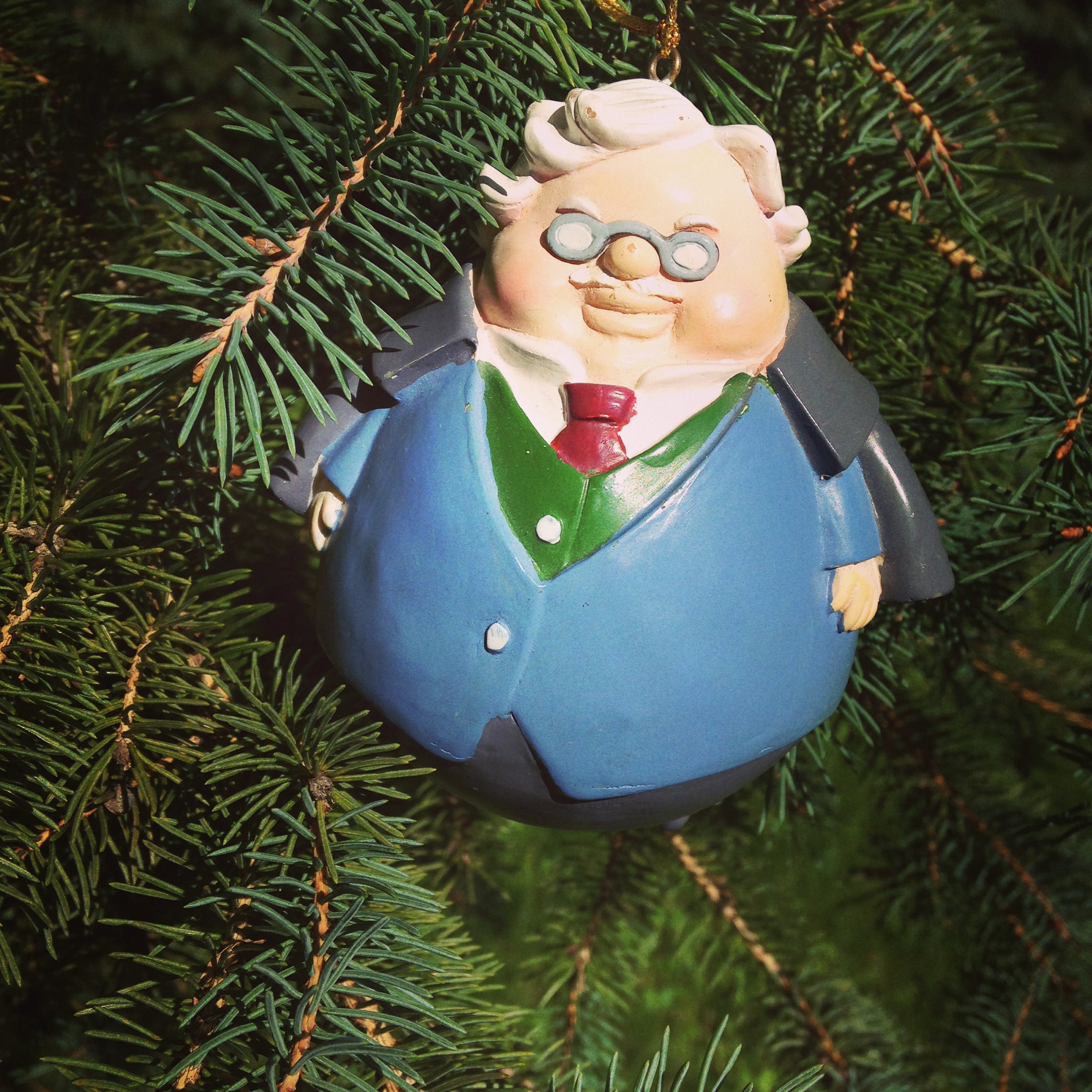 I was moved to write this after reading a number of snarky Christmas comments by Facebook friends and writer buddies, and after struggling through Christmas shopping crowds. Yes, the festive season can get on your case with the way it jams you up against family and strangers. But know what? That could say more about you than it says about the commercialization of Christmas. G.K. Chesterton tackled the issue just over 100 years ago in Heretics, his brilliant, penetrating series of essays on other contemporary intellectual figures "whose view of things has the hardihood to differ from mine." In "Christmas and...
Since the extremely talented Simon Strantzas has graced us with a very unsettling Christmas special, "Making Merry," I thought that this was a good time to pick up on a couple of modern classics of free festive fear. Or Gratis Gibbering Ghoulishness. That's modern, because free out-of-copyright chilling Christmas classics are more plentiful than Jacob Marley's chains. And there are those who maintain that this habit of mixing horror with your holly and terror with your turkey is very much a Brit thing, foreign to Americans - although that I doubt. So, for others who do want to shiver under...