More on TechnologyTell: Gadget News | Apple News
Which Authors Do Subscription Services Benefit? (Digital Book World) Subscriptions services may yet turn out to be a next game-changer in publishing, but for the moment that market is in a state of flux and expansion. *** Retailers Prep to Kick Off Independent Bookstore Day (PW) Aside from simply celebrating small bookstores, one objective of the forthcoming Independent Bookstore Day, on May 2, is to bury a long-running narrative that the indies are dying. *** A Pay-What-You-Want Bookstore Could be Used for Many Things, But Discovering New Authors? No (Ink, Bits & Pixels) A new bookstore called Openbooks has been getting a lot of attention over...
Sad news has been going around that "Adult Wednesday Addams," the very marvelous fanmade online video series created by comedy actress Melissa Hunter, has been killed at least for the present by a copyright flag from the Tee & Charles Addams Foundation, which has taken it off air. "As many of you have seen, the Tee & Charles Addams Foundation flagged the show and, for now, it is off of YouTube," Melissa Hunter posted on Facebook. "I am working actively on coming to a resolution and will not let Wednesday be caged in internet purgatory. I appreciate your patience and support while I...

The Universal Stylus Initiative (USI) has been launched by a consortium of tech players "to develop and promote an industry specification for an active stylus." This seeks to establish "industry-wide standards for interoperable communication between an active stylus and touch-enabled devices such as phones, tablets, computing and entertainment platforms." Founding members include Dell, Intel, Lenovo, Sharp, Synaptics, and Wacom. For anyone skeptical about the appeal of onscreen writing, and particularly with active digitization, the USI has put some numbers against its plan. Jon Peddie of Jon Peddie Research, said in the announcement: "To date the market has been limited by proprietary touch controller-stylus solutions, which...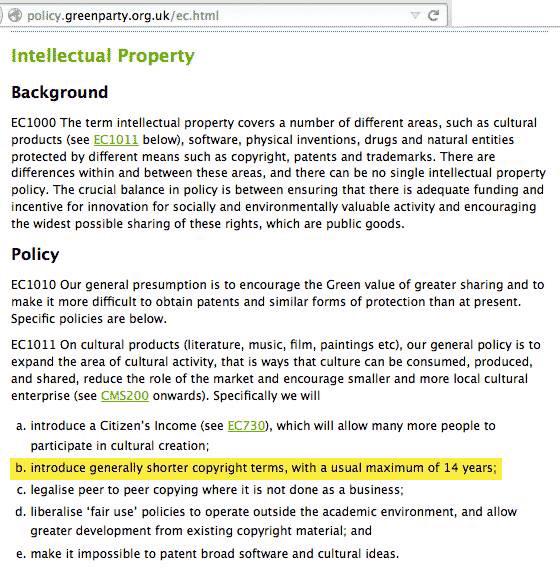 The UK Green Party, with just two weeks to go to the General Election, appears to have screwed its support with one influential constituency, writers and artists, through an ill-founded and poorly discussed policy proposal on copyright terms. The draft commitment to press for a shorter copyright term of just 14 years - versus the current UK norm of 70 years after the death of the author - apparently caught the entire creative community by surprise, and provoked a backlash when it did break cover. First tweeted by UK author Linda Grant (see the illustration), the Green Party proposal, with "to reduce the...
Why are Indie Bookstores on the Decline in the UK But Having a Revival in the US? (Ink, Bits & Pixels) With the number of indie bookstores in the US growing every year, no one can argue that they are on the rise. *** 2015 Pulitzer Prize Winners Show A Changing Reality for Journalism (Media Shift) But it's the fusion of legacy reporting with newer digital tools that makes these newspapers stand out, said Mike Pride, the administrator of the Pulitzer Prizes, who announced the winners. *** 6 Ways to Make the Most of Your Local Indie Bookstore (Book Riot) So you've found your local indie...
What's So Great About Young Writers? (NYT) I have an interest in the nurturing of "late blooming" writers. I have long grumbled about the conflation of the words "young" and "emerging," and particularly about the many prizes set aside for writers in their early careers below whatever cutoff has been picked, usually 35 or 40. *** How Much Time is Enough for Reading? (Book Riot) The other day I was waiting for the bus and I found myself doing what I call "booktime math": checking the transit schedule and quickly calculating do I have enough time to start reading? Or should I just goof...
Since climatologist Judith Curry ran a blog post in December 2012 titled simply "Cli Fi" about the rise of a new genre she pegged as cli-fi, with a radio segment on NPR picking up on her post and interviewing several novelists, the cli-fi meme has been in the air. Dozens, hundreds of news articles and web posts about the "mushrooming" new genre have appeared since 2013, from the New York Times to the New Yorker magazine in America to the Guardian and Financial Times in Great Britain. But what about the publishing industry? Have any editors or publishers or agents spoken publicly...
I love Inateck products. The Kindle case they sent me last year is still the one I'm using, and it's holding up nicely over time. I'm confident they have products which work well and will last. So when they offered to send me a sample of the [easyazon-link asin="B00JO6GQLS" locale="us"]Inateck Dual-Driver Portable Wireless Bluetooth Speaker[/easyazon-link], I was all over it. When I saw the picture, I fell in love with the idea of a combination stand/speaker which didn't involve a dock, so it can be used for any device, regardless of manufacturer. I'm using it as I write this to play music...
I wrote earlier about my experiences setting myself up as a beginning author on the Kindle store. I found the experience pretty painless, overall. But how does another web store compare? Is it easier, or harder, to set oneself up there? For comparison, here is a recap of my first few days as a seller on the specialty website Teachers Pay Teachers. This website allows teachers to offer free and paid self-created resources for use by other teachers. It has become very popular because they require each seller to offer at least one resource for free, so there are a lot...
Juvenile Book Sales Plummet (PW) Industry members expected that sales in the two segments would cool this year and sales, which started to slow this spring, plunged in the week ended April 19, 2015, compared to the similar week in 2014. Unit sales in the juvenile nonfiction category fell 39% in the week and dropped 46% in fiction at outlets that report to BookScan. *** In Praise of the Digital Calendar (Unclutterer) Dave has declared his love of the wall calendar, and I agree with the points he made. I also know plenty of other people who work well with either paper wall calendars...
Following my earlier coverage of the latest Authors' Licensing & Collecting Society (ALCS) study on writers' earnings and contractual terms, "The Business of Being an Author: A Survey of Author's Earnings and Contracts," I contacted the ALCS, the UK Publishers Association, and the Society of Authors for their reactions. Nicola Solomon, Chief Executive of the Society of Authors, was first to reply, as follows: Teleread: The ALCS numbers show author incomes in a state of continuous decline at a time when the UK publishing industry appears to be enjoying great success. Why is this? Nicola Solomon: While it has always been the case that a handful of...
LG Electronics in Korea has announced a new budget smartphone/phablet, the LG G Stylo, with size, specs, and pen input implementation to challenge the Samsung Galaxy Note, at a considerably lower price point. For some readers - me included - this could be the portable writing and productivity platform of their bargain-basement dreams. The new device offers a 5.7 inch HD IPS display, with Android 5.0 Lollipop as the OS, and a Qualcomm Snapdragon 410 CPU. Spokesperson Cho Jun-Ho, president of LG Electronics, stressed that "for consumers who prefer a large screen smartphone the G Stylo is focused on providing affordability...